#23/25 Tennessee (14-8/5-4 SEC) vs. #12/11 Texas A&M (15-7/5-4 SEC)
Sunday, February 7th, 2016 | 3:01pm CT/3:01pm ET
College Station, TX | Reed Arena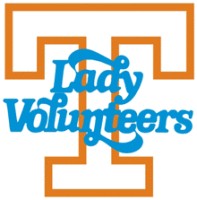 Knoxville, TN – The #23/25 Lady Vols (14-8, 5-4 SEC) will look for a road victory as they take on #12/11 Texas A&M (15-7, 5-4 SEC) on Sunday. Tip off is slated for 3:00pm CT/4:00pm ET, and the game will be broadcast on ESPN and available online via WatchESPN.
The Lady Vols and Aggies enter the contest knotted up in fourth place in the SEC standings, one game ahead of Auburn, Georgia and Missouri in the loss column.
Tennessee brings a two-game winning streak into the contest after it defeated Alabama (70-42) last Sunday and Arkansas (75-57) on Thursday night, both in Knoxville, to rise from ninth to fourth in the league standings.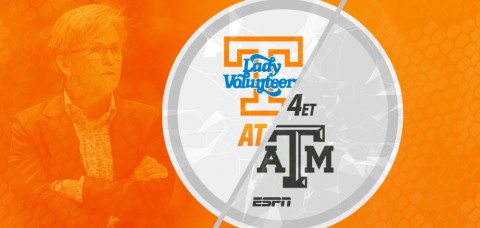 UT, however, is 1-3 in SEC road games and brings a four-game away losing streak into Sunday's tilt.
Holly Warlick's troops won their SEC opener on the road at #20 Missouri (71-55) on January 4th but since have fallen at Arkansas (64-59), at #3 Notre Dame (79-66), at #12/9 Kentucky (64-63) and at #13 Mississippi State (65-63 in OT).
Texas A&M enters Sunday's contest on a two-game skid and the loser of three of its last five.
The Aggies lost at home to #2 South Carolina (70-63) last Sunday and fell at #22 Florida (83-81) on Thursday night.
Both teams have lost at Arkansas, defeated Missouri, defeated Alabama and lost to Florida. UT also has a victory over Arkansas.
Under Holly Warlick, Tennessee is 30-15 in road games, 60-8 at home and 10-5 at neutral sites for a total of 100-28.
UT remained in the AP poll this week at #23, making it 563 weeks in a row that the Lady Vols have remained in the top 25.
On February 4th, in a 75-57 win over Arkansas in Knoxville, Holly Warlick became the 17th person to lead her squad to 100 wins in her first four seasons as head coach of an NCAA Division I women's basketball team.
She became only the sixth coach since 1992 to do so and joined Kristy Curry (Purdue, 1999-2003/now at Alabama) as the only Power Five coaches in the past 24 years to win 100 games in their first four years.
Warlick was the seventh fastest in the number of days to reach 100, doing so in 1,182. The only coaches getting there faster were Sonja Hogg, Louisiana Tech (1107); Jody Conradt, Texas (1128); Leon Barmore, Louisiana Tech (1131); Matt Bollant, Wisconsin-Green Bay (1163); Andy Landers, Georgia (1170); Karl Smesko, Florida Gulf Coast (1174).
Dave Hart, Rick Barnes Salute Warlick
Immediately after Holly Warlick's 100th career win, her players picked her up and carried her across the court, presented her with flowers and posed for a historical photo.
After everyone returned to the locker room, UT Vice Chancellor & Director of Athletics Dave Hart and UT men's basketball coach Rick Barnes contributed to the celebration. Hart presented Warlick with a commemorative 100th win basketball and congratulated her on joining an elite club of coaches.
Barnes then entered the room pushing a cart carrying a large cake shaped to form 100. He shared what Warlick's coach, mentor, friend and former co-worker Pat Summitt might have said had she been present, making for a very poignant moment.
Putting the List in Perspective
Warlick's numbers are even more impressive when one considers the Tennessee job was her very first head coaching experience.
Many of the coaches on the above list coached their college teams under the auspices of AIAW prior to the NCAA adding women's sports under its umbrella, meaning many of these coaches already had experience as full-fledged head coaches when they posted these numbers.
Some of these coaches directed high school programs or college programs below the Division I level before achieving these results.
Pat Summitt ranks 37th with 92 wins in the first four years UT competed at the NCAA level instead of AIAW. Summitt was 55-28 in her actual first four years as UT's coach and had seven years under her belt before the Lady Vols began competition under the NCAA's direction.
A selection of other coaches and their records in their first four years at NCAA DI: Kim Mulkey (98), Jeff Walz (96), Nikki Caldwell (95), Kay Yow (94), Tara VanDerveer (93), Joe Ciampi (92), C. Vivian Stringer (92), Karen Aston (86), Joanne P. McCallie (80), Gail Goestenkors (76), Dawn Staley (74), Muffet McGraw (71).
Warlick in Good Company
Following a legend is a nearly-impossible task, but yet Holly Warlick is making her way as Pat Summitt's hand-picked successor. Now in her fourth season as Tennessee's head coach, Warlick has produced an 100-28 overall record and a 47-10 mark in SEC contests.
Her 86-20 mark and .811 winning percentage to open the season placed Warlick fifth among all active NCAA Division I women's basketball coaches after only three years as a head coach. Entering 2015-16, the only NCAA Division I coaches ranked ahead of Warlick were Geno Auriemma of UConn (.873, 30 yrs.), Kim Mulkey of Baylor (.829, 15 yrs.), Tara VanDerveer of Stanford (.815, 36 yrs.) and Karl Smesko of Florida Gulf Coast (.812, 16 yrs.).
In her first three seasons at Tennessee, Warlick was 48-8 vs. SEC schools, including 42-6 vs. league foes during the regular season. That 42-6 mark equaled a winning percentage of .875, which is No. 1 among active SEC coaches.
She has led the Lady Vols to a pair of SEC regular season championships (2013, 2015) and an SEC Tournament title (2014), winning at least one league trophy in each of her first three seasons. All three of the squads she previously has directed have made the NCAA Tournament, with the 2013 and 2015 teams advancing to the Elite Eight and the 2014 edition making it to the Sweet 16.
Since becoming head coach, five of her players have gone in the WNBA Draft. Three, including first-rounder Isabelle Harrison, were 2015 picks.
Warlick has a 26-20 record vs. ranked teams, including 3-5 this season and 9-5 in 2014-15.
Warlick Leads SEC Coaches in Win Pct.
Holly Warlick entered the league schedule with the highest winning percentage in SEC games among active coaches. Warlick is 47-10 in the regular season vs. conference teams for a top winning percentage of .825.
Kentucky's Matthew Mitchell began the season second (.653), followed by South Carolina's Dawn Staley (.609) and Vandy's Melanie Balcomb (.593).
Warlick already ranks sixth out of the 14 coaches for SEC victories despite it being her fourth season.
Ahead of Warlick are Balcomb (119-84, 14th yr.), Gary Blair (93-93 at TAMU & ARK, 14th yr.), Mitchell (85-49, 9th yr. at Ky.), Dawn Staley (77-43, 8th yr. at S.C.) and Amanda Butler (63-71, 9th yr. at Fla.).
About the Texas A&M Aggies
Texas A&M stands at 15-7 overall and 5-4 in SEC play after dropping its last two games. A&M is 9-2 at home, including 3-1 in SEC play.
The Courtneys (seniors Walker and Williams) once again pace the Aggie attack. Courtney Walker leads the team in scoring and rebounding at 18.3 ppg. and 5.7 rpg. She scored 31 in the loss to Florida and 27 in the setback to South Carolina. Courtney Williams is second in scoring at 12.3, as A&M's only other player averaging double figures in points.
Senior Jordan Jones dishes out 5.4 assists per game and is the team's leading three-point threat (27-69, 39.1%).
A&M shoots 45% from the field, led by Khaalia Hillsman at 56.5% and Courtney Walker at 51.0%. The Aggies have committed 21 fouls in each of their last two games.
Gary Blair is in his 31st year of coaching, standing 302-126 in 13 years in College Station and 710-289 overall in his 31st year.
The Series Vs. Texas A&M
Tennessee holds a 6-1 all-time record vs. Texas A&M, dating back to December 19th, 1997. UT is 2-0 in Knoxville, 1-0 in College Station and 3-1 at neutral sites vs. the Aggies. The Big Orange women are 4-1 vs. A&M since the Aggies joined the SEC.
In the initial meeting between these teams in Knoxville, on February 28th, 2013, Tennessee defeated A&M, 82-72, on Senior Day to give Holly Warlick an SEC regular-season championship on the Lady Vols' home court in her first season as head coach. Her squad had been picked to finish as low as fifth.
Isabelle Harrison had 10 points and four boards in that regular season game before being injured late in the contest and missing the second meeting that season at the 2013 SEC Tournament in Duluth, GA. The Aggies won that second match-up vs. UT in 2013, overcoming Taber Spani's career-high 33 points to topple Tennessee and advance to the SEC title game, 66-62.
Tennessee made its first-ever women's basketball appearance in College Station on January 26th, 2014, and the (then) #11/12 Lady Vols picked up a key victory over the (then) #17/15 Aggies, 76-55. A&M was the SEC leader at the time of that defeat. That game marked Andraya Carter's first start in place of
Ariel Massengale
, who suffered a head injury vs. Florida the game before and would wind up missing the rest of the season.
Carter stepped up in a big way for her team, playing all 40 minutes and tallying 10 points, six assists, two rebounds and two steals. She credited Massengale for showing her the ropes and having her ready to play. Meighan Simmons also had a phenomenal game in her final trip to Texas as a Lady Vol that season, hitting 12 of 19 shots and scoring 26 points in 39 minutes.
As in 2013, UT would meet A&M again in 2014, this time completing a season sweep in the SEC tourney semifinals with an 86-77 score in Duluth, GA. UT overcame a 10-point deficit, with Isabelle Harrison posting a double-double of 20 points and 13 rebounds to lead the way.
Last season, UT won 81-58 in Knoxville on January 8th in a battle of top 10 teams. Harrison had 21 points for Tennessee.
UT has met A&M in other tournaments, including one regular-season and one postseason event. After both of those tourney wins over the Aggies, the Lady Vols would advance to, and win, the NCAA Final Four in those seasons of 1997-98 and 2007-08.
In the first meeting, the #1/1 Lady Vols rolled to a 105-81 victory over the Aggies at the Northern Lights Invitational in Alaska in game two of a three-game stay.
The famed "Three Meeks" dazzled #8/9 A&M in that contest, as Chamique Holdsclaw tallied 29, Semeka Randall tossed in 23 and Tamika Catchings added a double-double of 21 points and 12 rebounds for #1/1 UT in the high-scoring affair.
In 2008, Candace Parker scored 26 points and Alexis Hornbuckle chipped in 14, as the Lady Vols defeated Texas A&M, 53-45, in the Oklahoma City Regional Final to advance to the Final Four in Tampa.
The Last Time These Teams Met
#7/9 Tennessee won its ninth game in a row, taking down #9/8 Texas A&M, 81-58, on January 9th, 2014, at Thompson-Boling Arena. Tennessee's senior trio of Isabelle Harrison (21/8), Cierra Burdick (14/11) and Ariel Massengale (14/4) combined for 49 points and 23 rebounds. Courtney Walker led the Aggies with 25 points.
Tennessee hit 10 of its first 17 shots to race out a 22-7 lead with less than nine minutes elapsed in the game. Texas A&M cut its deficit to single digits on Walker's jumper with 14:23 left in the game, as Tennessee held a 57-48 lead.
The Lady Vols ripped off 14 points in a row, keyed by Massengale's eight points, to take a 73-50 lead with six minutes left in the game. The lead ballooned to a game-high 27 points on Bashaara Graves' jumper with 2:25 left, making it 79-52.
The Lady Vols outscored Texas A&M, 25-2, in bench points and had 24 assists with only eight turnovers, led by six from Burdick and Jordan Reynolds.
Last Time These Teams Met in Texas
In a return to her home state, senior Meighan Simmons had one of her best games of the season in a 76-55 Tennessee win at Texas A&M on January 26th, 2014. The Cibolo, Texas native scored a game-high 26 points as the #11/12 Lady Vols moved to 16-4 overall and 5-2 in the SEC.
Playing without starting point guard Ariel Massengale, who did not travel after suffering an injury in the previous game, the Lady Vols jumped out to a 10-2 lead six minutes in and never looked back.
Redshirt freshman Andraya Carter, drew the start in Massengale's place and scored 10 points and handed out a team-high six assists. Bashaara Graves and Isabelle Harrison each scored 10 points with Harrison snaring nine boards. Freshman Mercedes Russell had eight points and 11 rebounds, her season high for caroms.
Texas A&M was led by Courtney Walker, who had 20 points. Karla Gilbert had a double-double with 14 points and 11 rebounds.
Broadcast Information
Television | ESPN
Play by Play: Brett Dolan
Analyst: Sue Bird
---
Radio | Lady Vol Network
Play by Play: Mickey Dearstone
---
Online/Mobile
www.UTsports.com
Free audio stream only
www.WatchESPN.com
Free video stream to registered cable subscribers