Tennessee vs. Missouri
Saturday, November 18th, 2016 | 2:30pm CT
Knoxville, TN | Neyland Stadium | TV: CBS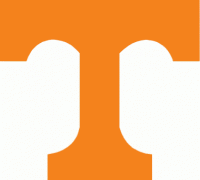 Knoxville, TN – Tennessee celebrates Senior Day on Saturday as it closes out its home schedule against Missouri at 2:30pm CT at Neyland Stadium.
Saturday's game will be broadcast on CBS with Verne Lundquist and Gary Danielson in the booth and Allie LaForce reporting from the sidelines.
Tennessee (7-3, 3-3 SEC) will be making its fifth appearance on the SEC on CBS Game of the Week this season, its most since 1998 when it made six regular season appearances on the network. Earlier this season, the Vols are the first team in history to be featured on CBS in four straight weeks.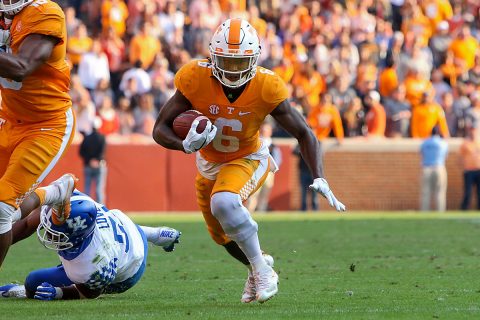 Fans can also listen live on their local Vol Network affiliate with Bob Kesling, Tim Priest and Brent Hubbs in the booth and John Brice on the sidelines.
Tickets can be purchased online at AllVols.com.
Tennessee and Missouri (3-7, 1-5 SEC) are meeting for only the fifth time. The Tigers hold a 3-1 edge in the series, including a 2-0 record at Neyland Stadium. The Vols collected their first win in the series last year, pulling out a 19-8 victory in Columbia on the season's penultimate weekend.
Both Tennessee and Mizzou enter Saturday's contest off wins. The Vols rushed past Kentucky last weekend, posting 376 yards on the ground en route to a 49-36 victory. Meanwhile, Missouri snapped its five-game losing streak with a 26-17 home win over Vanderbilt.
The Vols will honor 13 seniors, including 11 scholarship seniors, in a pregame ceremony on Saturday. The four-year seniors in the group are the first to have matriculated through the University of Tennessee entirely during Butch Jones' tenure on Rocky Top.
Every member of this season's senior class is on track to graduate either at the end of the fall semester or in the spring of 2017. In fact, five have already achieved their undergraduate degrees: Kenny Bynum (Recreation & Sport Management), Jason Croom (Sociology), Charles Folger (Special Education), LaTroy Lewis (Kinesiology) and Jalen Reeves-Maybin (Recreation & Sports Management).
Legend of the Game
Former Tennessee and NFL linebacker Darryl Hardy will be honored as Saturday's Legend of the Game.
A native of Sharonville, Ohio, Hardy was a member of the Volunteers from 1988-91. He earned All-SEC honors in 1991 and played on two SEC championship teams (1989, 1990).
After completing his eligibility on Rocky Top, Hardy was drafted by the Arizona Cardinals in the 1992 NFL Draft.
Nation's Toughest Schedule
According to the NCAA, Tennessee has faced the nation's toughest schedule through 10 games.
The Vols' first nine FBS opponents have a combined winning percentage of .663 (55-28).
Tennessee has faced four ranked opponents, including two ranked inside the top 10. The Vols are 2-2 in those games.
Four of Tennessee's first seven opponents in 2016 are currently in first place in their respective conference divisions: Virginia Tech (ACC Coastal), Ohio (MAC East), Florida (SEC East), Alabama (SEC West). Appalachian State sits in third place in the Sun Belt Conference with a 5-1 conference mark.
Six Straight November Wins
With last week's 49-36 win over Kentucky, the Vols have now won six consecutive games in the month of November.
UT is 10-4 (.714) in November under Butch Jones.
Since 1990, the Vols are 89-20 (.817) in November, including 21 consecutive wins in the month from 1990-96. Tennessee is 320-125-21 (.705) all-time in November.
Big Chunks
Over its last two games against Kentucky (November 12th) and Tennessee Tech (November 5th), Tennessee has averaged 9.6 yards per offensive play (1,070 yards of total offense on 111 offensive plays).
The Vols finished with 599 yards of total offense on 59 plays against UK. UT's 10.2 yards per play were its most since 2009 when it set the school record with 10.9 yards per play (also against Kentucky).
The Injury Dilemma
Fourteen different players who have logged a start for Tennessee this season have also missed at least one game due to injury. Those 14 Vols have combined to miss 39 games this season—an average of almost three missed games per injury.
Injuries have forced the Vols to start six different combinations along the offensive line through 10 games this season.
Similarly, there have been eight different starting lineups in the secondary due to injuries.
Five Vols have been ruled out for the season. Two of those players are defensive tackles (Kahlil McKenzie, Shy Tuttle) and two were preseason All-SEC picks (Evan Berry, Jalen Reeves-Maybin).
Another preseason All-SEC selection, Cameron Sutton, missed six games due to injury.
Good Day on the Ground
Tennessee rushed for a season-best 376 yards against Kentucky last week, picking up four rushing touchdowns along the way.
The Vols nearly had three players reach the 100-yard mark as quarterback Joshua Dobbs posted 147 rushing yards while tailbacks Alvin Kamara and John Kelly finished with 128 and 94, respectively.
The 376 rushing yards on 41 rushing attempts were good for 9.2 yards per attempt—the most for Tennessee since averaging 9.5 yards per rush against Auburn in the SEC Championship Game on Dec. 4, 2004.
Kamara Shines in Return
Having missed the previous two games with an injury, redshirt junior tailback looked sharp in his return to the field last week against Kentucky.
Kamara rushed 10 times for 128 yards and two scores. It was the fourth 100-yard game and the fifth multi-touchdown game of his career.
Sutton Sets Record in Return
After missing six games with a leg injury, senior defensive back Cameron Sutton returned to action last week against Kentucky and wasted no time in setting a new Tennessee career record.
With two pass breakups against the Wildcats, Sutton became the school record-holder in career passes defended with 36, passing Jabari Greer's 13-year record of 35.
Sutton is Tennessee's most experienced defensive back. He has started all 42 games of his career, dating to the 2013 season opener.
Sutton has seven career interceptions—second-most of any current Volunteer.
The senior captain is also Tennessee's career leader in punt return average at 14.9 yards per return. Sutton has three career punt returns for touchdown.
25 Straight with Rushing TD
Tennessee rushed for 376 yards last week against Kentucky and added four scores on the ground to establish a new Tennessee record with 25 consecutive games with a rushing touchdown.
The 24-game streak began November 24th, 2014 in a 24-17 win at Vanderbilt. Quarterback Joshua Dobbs rushed for two scores that day.
Tennessee had 24 consecutive games with a rushing touchdown from the 1937-1939 seasons, a school record that had previously stood alone for 77 years.
Dobbs and tailbacks Jalen Hurd, Alvin Kamara, John Kelly, Joe Young and Carlin Fils-aime have all scored during the streak.
According to ESPN Stats & Info, Tennessee's streak is the second-longest active streak in FBS, trailing only Alabama (30).
The last time the Vols were held without a rushing score was November 22nd, 2014—a 29-21 loss to Missouri.
Barnett on the Scene
Junior defensive end Derek Barnett posted five total tackles, a sack and 1.5 tackles for loss last week against Kentucky. Barnett now has 4.0 sacks over his last three games.
Barnett has 10.0 sacks this season, matching his season total from both his freshman and sophomore seasons. He is the only player in Tennessee history to record three straight seasons of 10 or more sacks.
Barnett is the only player in the SEC with double digit sacks this season and all 10 of his sacks have come during SEC play. He ranks in a tie for sixth nationally.
Barnett has three multi-sack performances this season: Florida (September 24th), at Georgia (October 1st) and at South Carolina (October 29th).
With 30.0 career sacks, the Nashville native is alone in second place on Tennessee's all-time sacks list and is just the second Volunteer in history to record 30 career sacks. He also ranks third in school history in tackles for loss (49.0).
Barnett's 30.0 career sacks are the most among the FBS' and SEC's active leaders.
Huge Day vs. Kentucky
Vols senior quarterback Joshua Dobbs put up yet another impressive performance against Kentucky, accounting for five total touchdowns (three passing, two rushing) and 370 yards of total offense.
Dobbs went 11-of-17 for 223 yards through the air, while also rushing 14 times for 147 yards. It was the fifth 100-yard rushing game of his career.
Dobbs broke off a 45-yard touchdown run early in the fourth quarter—the second-longest rush of his Tennessee career.
SEC Leader: Pass TDs, Points
Senior quarterback Joshua Dobbs' career-best 21 touchdown passes are tied for the most among SEC quarterbacks. The co-leader? Missouri's Drew Lock.
Dobbs also paces the SEC in total points responsible for. With 21 passing touchdowns, seven rushing TDs and a receiving score, Dobbs has accounted for 174 points for the Vols this season. No. 2 in the SEC? Alabama's Jalen Hurts (162).