#12/13 Tennessee (6-0) vs. Central Arkansas (3-1)
Thursday, November 30th, 2017 | 6:00pm CT
Knoxville, TN | Thompson-Boling Arena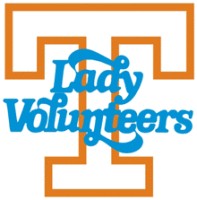 Knoxville, TN – No. 12/13 Tennessee (6-0) meets Central Arkansas (3-1) at 6:00pm CT on Thursday at Thompson-Boling Arena.
The UT-UCA game is the fourth of seven home tilts in UT's first 10 scheduled contests. It also is the first of a four-game home stand.
The Lady Vols remain undefeated after winning all three games at the Cancun Challenge in Mexico last Thursday through Saturday at the Hard Rock Hotel Riviera Maya in Puerto Aventuras.
UT beat a talented No. 20/20 Marquette squad, 101-99, in overtime on Thursday night; held off a previously-unbeaten Oklahoma State squad, 79-69, on Friday evening and closed with a 69-49 victory over a solid South Dakota club on Saturday.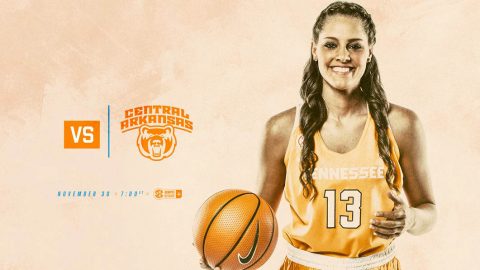 Central Arkansas enters on the heels of a 106-23 win over NAIA Division II school Crowley's Ridge College on Tuesday night in Conway.
The Sugar Bears also own victories over NCAA Division III Hendrix (79-22) and Alcorn State (75-52) and suffered an 86-55 loss at the hands of (then) No. 3/3 Baylor on November 14th.
Bob Kesling (PxP), Andraya Carter (Analyst) and Maddy Glab (Reporter) will describe the action for the Tennessee-UCA online broadcast on SEC Network+ (SECN+) and WatchESPN.
Mickey Dearstone will handle the call for IMG College/Lady Vol Network radio/online broadcasts for the 19th season. A link to the live audio stream can be found on each Hoops Central page or the Lady Vol schedule on UTSports.com.
Air time for games on the Lady Vol Radio Network is generally 30 minutes prior to tip-off.
Home Sweet Home
This is the 31st season that the Tennessee women's and men's basketball teams have called Thompson-Boling Arena home, and the Lady Vols own a 431-35 mark (.925) in the venue.
UT is 78-12 (.867) there during Holly Warlick's sixth season at the helm and has won five straight at T-BA, dating back to last season.
The Lady Vols have a 584-59 (.908) home record in contests played at Thompson-Boling Arena, Stokely Athletics Center and Alumni Gym.
UT finished 13-3 at home in 2016-17.
Capacity at Thompson-Boling Arena is 21,678.
UT has led the nation in attendance 19 times in the past 26 years, finishing second the past three years after an 11-season run at No. 1.
Tennessee ranked second in the nation in home attendance last season with an average of 9,184 through 16 dates and currently ranks fourth at 8,080 per contest.
Coming Up for UT
Following the meeting with UCA, Tennessee continues its four-game home stand with a 2:00pm Sunday matinee vs. Alabama State.
Next week, the Lady Vols will welcome Troy on December 6th (7:00pm) and No. 2/4 Texas on December 10th (3:00pm) before competing in their first two true road games of the season at Long Beach State on December 17th and at #16/14 Stanford on December 21st.
Tennessee Reset
Tennessee is one of only four SEC schools remaining unbeaten this season as of Wednesday. UT, Georgia, Kentucky and Mississippi State stand at 6-0.
The Lady Vols are off to their best start since the 2013-14 squad began the year 10-0 en route to a 29-6 overall record.
UT has four players averaging in double figures, including seniors Jaime Nared (17.5) and Mercedes Russell (17.2) and freshmen Rennia Davis (12.7) and Anastasia Hayes (12.3).
Jaime Nared has scored 21 or more points three times this season, including 25 vs. James Madison, 26 vs. Marquette and 21 vs. Oklahoma State.
Nared became the 45th Lady Vol to eclipse the 1,000-point mark, netting 21 vs. Okie State and moving her total to 1,004 in her 100th career game.
Against OSU, Nared recorded her third double-double this season and the 12th of her career.
Mercedes Russell continues to shoot at a high percentage, connecting on 68.2 percent of her shots (45 of 66). She leads the SEC with that accuracy and ranks No. 7 nationally.
Rennia Davis has notched double-doubles in three of the past four games.
Tennessee leads the SEC and ranks 10th nationally, pulling down 48.0 rebounds per game, with Jaime Nared (10.8), Mercedes Russell (8.7) and Rennia Davis (8.5) leading the way.
The Lady Vols are eighth in the NCAA in free throws attempted (165) and 11th in free throws made (109).
Reserve freshman guard Anastasia Hayes has gotten to the free throw line an average of 10 times per game, hitting 46 of 60 for 76.7 percent.
Hayes ranks third nationally for free throws attempted and fourth for free throws made.
UT is 10th nationally in three-point field goal percentage defense, allowing opponents to shoot only 22.1 from long range.
Tennessee has had at least one player score 20 or more points in four of six games.
Freshman Evina Westbrook has recorded at least six assists in three of six games and is leading UT with an average of 4.7 dimes per game.
Getting Off to a Great Start
Tennessee has made a habit of getting off to great starts lately.
UT went up 10-0 to open the Marquette game.
The Lady Vols were up 6-0 on Oklahoma State en route to a 24-10 first quarter lead.
The Big Orange burst out to a 7-0 advantage over South Dakota on the way to a 24-9 first quarter.
Big Runs by the Lady Vols
Tennessee has put together some impressive scoring runs this season, stringing together 17-straight points spanning the first and second quarters vs. East Tennessee State.
Against Marquette, UT opened the game on a 10-0 spurt and later used a 14-0 blitz to erase a seven-point deficit.
UT also added a 12-0 run vs. Wichita State (1Q-2Q) and had an 11-0 spree (3Q) as well.
Tennessee used an 11-0 run vs. Oklahoma State, bridging the first and second quarters, to extend its lead to 25-10 over the Cowgirls.
The Lady Vols had an 11-0 blitz spanning the second and third quarters vs. South Dakota.
Conversely, the biggest run UT has given up in 2017-18 has been a 12-0 run by Marquette spanning the second and third quarters.
Recent Lady Vol Recognitions
Three Lady Vols were honored for their efforts last week.
Senior center Mercedes Russell was named the College Sports Madness SEC Player of the Week, freshman forward Rennia Davis was selected SEC Freshman of the Week and senior forward Jaime Nared was chosen as the MVP of the Cancun Challenge.
Russell averaged 17.3 ppg. and 8.3 rpg., and shot 61 percent last week, including a double-double of 17 points and 15 rebounds vs. #20/20 Marquette and a 26-point effort vs. Oklahoma State.
Davis averaged 12.7 ppg. and 8.3 rpg., shot 54.8 percent from the floor and had a pair of double-doubles, including a 14/10 effort vs. Marquette.
Nared posted 19.3 ppg., 11.3 rpg. and 4.0 apg. while shooting 45.2 percent from the field, 50 percent from beyond the arc and 88.9 percent at the charity stripe. She also had a pair of double-doubles, including a 26 pts./15 rebs./6 ast. game vs. Marquette and a 21/10 outing vs. Oklahoma State.
UT Last Time Out (UT 69, USD 49)
Tennessee improved to 6-0 on the season and went undefeated in the Cancun Challenge, besting South Dakota 69-49 on Saturday evening at the Hard Rock Hotel Riviera Maya Convention Center in Puerto Aventuras, Mexico.
Senior Jaime Nared was named MVP of the tournament, averaging 19.3 points, 11.3 rebounds and 4.0 assists. The 6-foot-2 forward shot 45 percent from the field, 50 percent from the three-point arc and 89 percent from the free throw line.
The Lady Vols had four players in double figures against the Coyotes. Freshmen Rennia Davis and Anastasia Hayes each had 12, while Nared and Mercedes Russell finished with 11 and 10, respectively.
Tennessee jumped out to a quick lead, going 2-of-3 from behind the arc and shooting 69% from the field to take a 24-9 lead into the second quarter.
The Lady Vols continued to build on their lead, stretching it to 41-18 in the second quarter. Freshmen led Tennessee in scoring during the first half with Evina Westbrook notching nine points and Hayes tallying eight.
Memories of Cancun
Most importantly, UT went 3-0 in Mexico.
Tennessee shot 47 percent from field last week, and improved its free shooting to 71.6 percent over the three-game tournament. UT is shooting 66.1 for the season.
The Lady Vols averaged 15.3 assists per contest, led by Jaime Nared and Evina Westbrook (4.0). Anastasia Hayes averaged 3.3 per contest.
Jaime Nared averaged a double-double of 19.3 points and 11.3 rebounds, leading the team in both categories. She also had team highs of six blocks, five assists and led UT in FT% (88.9) and 3FG% (50.0).
The Series vs. UCA
Tennessee and Central Arkansas have met one time previously, with a No. 4/4 Lady Vol unit taking care of the Sugar Bears in the 2015-16 season opener, 102-47, on November 15th.
UT is 6-3 all-time vs. schools from the Southland Conference.
Last Meeting Between UT & UCA
Five players reached double-figures in scoring to lead No. 4/4 Tennessee to a dominating 102-47 win over Central Arkansas in the regular-season opener on November 15th, 2015, at Thompson-Boling Arena before a crowd of 9,709.
With the win, the Lady Vols extended their home winning streak to 23 consecutive games and also improved to 38-4 in season-openers over the past 42 seasons.
Sophomore forwards Kortney Dunbar and Mercedes Russell led the charge as Tennessee finished with a 54-18 advantage in points in the paint. Both Dunbar and Russell recorded double-doubles and posted career highs in points and rebounds on the afternoon. Dunbar finished with a game-high 24 points and pulled down 13 rebounds while Russell scored 20 points and grabbed 13 boards of her own.
Central Arkansas Reset
Central Arkansas enters at 3-1 overall and is paced by 5-6 junior guard Kamry Orr at 16.0 ppg.
Other double figures scorers include 6-0 senior forward Taylor Baudoin (13.3 ppg.) and 6-1 senior center Kierra Jordan (12.5).
Baudoin and Jordan lead the squad in rebounds at 6.5 per contest.
That nucleus of players has started all four games this season.
Central Arkansas is shooting 50.4 percent from the field and holding opponents to 33.3.
The Sugar Bears are averaging 10 steals per contest and forcing opponents into 18 turnovers per 40 minutes.
UCA coach Sandra Rushing is a 1986 Alabama graduate who led her squad to regular-season and postseason Southland Conference titles last season and an NCAA First Round berth.
Rushing played collegiately at Alabama, where she was a four-time Academic All-SEC selection and holds the Crimson Tide's career free throw percentage record.
Central Arkansas freshman Hannah Langhi's last name may sound familiar to UT fans. Her father, Dan, played at Vanderbilt from 1996-2000 and was the SEC Player of the Year in 2000.
UCA Last Time Out (UCA 106, CRC 23)
Freshman center Hannah Langhi led six players scoring in double figures with 19, as Central Arkansas (3-1) blasted NAIA Division II Crowley's Ridge College (3-6), 106-23, Tuesday night in Conway, AR.
Langhi, the 6-foot-2 daughter of former Vanderbilt men's standout Dan Langhi, connected on 8-of-11 field goal attempts and all three free throw attempts in the victory. She also grabbed a game-high eight rebounds in 22 minutes.
UCA led 28-5 after one and 29-12 at the half.
The Sugar Bears followed that up by routing CRC, 26-7, in the third and, 31-4, in the fourth.
UCA shot 59.4 percent for the game (41-of-69), including 48.1 percent (13-of-27) from the three-point arc.
Central Arkansas out-rebounded CRC, 54-25, and forced 19 turnovers by their guests, who did not have a player scoring in double figures.