Busy 12 months yielded better intergovernmental relations, smoother budgeting, and several new departmental leaders
Clarksville, TN – Clarksville Mayor Joe Pitts' first year in office has produced dramatic improvements in local intergovernmental cooperation, effective hiring of several new departmental leaders, smooth deliberation and adoption of the 2020-21 Fiscal Year budget, and a strong focus on communicating with citizens.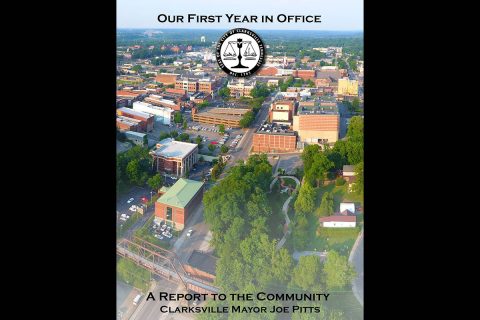 Crisis Response
A major challenge of the first year came on Saturday, October 26th, when a storm with 70 mph straight-line winds struck the City, knocking out power for nearly half of CDE Lightband's customers.
CDE and crews from regional utilities and power contractors worked valiantly for more than a week to restore power to more than 32,000 businesses and residents. The Clarksville Street Department has worked for weeks to pick up and dispose of thousands of tons of trees and limbs that were blown down by the wind.
The storm crisis has led to a rewrite of the City emergency communication response plan and other measures designed to help the City respond more quickly to the next challenge.
Internally, the City family also faced a pair of losses during the mayor's first year. Two long-term Clarksville Street Department employees lost their lives while on the job serving Clarksville citizens. One worker was stuck by a truck and killed, and another died of natural causes while working. In both cases, Mayor Pitts and numerous city employees reached out to comfort and support surviving family members.
A Big Honor
Mayor Pitts' first year also included dramatic recognition for the community. In August, Money.com — a respected business publication — announced that after a thorough examination based on thousands of data points, Clarksville earned Money's rating as the Best Place to Live in America.
"Clarksville's affordability is hard to beat, yet it's not the only thing that makes the city special," Money.com said. "There's a unique charm to the place; it feels like the quintessential small American town. Not only are there small, locally-owned businesses, but public places where residents can go to relax, like the new park at Downtown Commons or the River Walk, whose paved path provides a beautiful view of the Cumberland River at sunset."
Big Milestones
Clarksville also celebrated the opening of two major new employers in the City-County industrial park — a new LG manufacturing facility brought hundreds of jobs, and Google opened a $600 million data center. Clarksville Transit System completed a $1.2 million Transit Center renovation, and the city began steps to develop a Citywide WiFi system.
Early Priorities
Mayor Pitts, elected in November 2018 and sworn in on January 2nd, 2019, pursued an aggressive early schedule. He and First Lady Cynthia Pitts conducted "Meet and Greet" breakfast sessions with each City department, where he shared his early priorities, which are to ensure the City is:
An efficient City that provides transparent, first-class customer service.
A collaborative City that partners with County government, the public school system, APSU and Fort Campbell to promote and enhance the quality of life.
An inclusive City government that projects strength through diversity of thought and innovative ideas.
A secure City with safe neighborhoods.
A supportive City committed to providing a professional work environment for employees.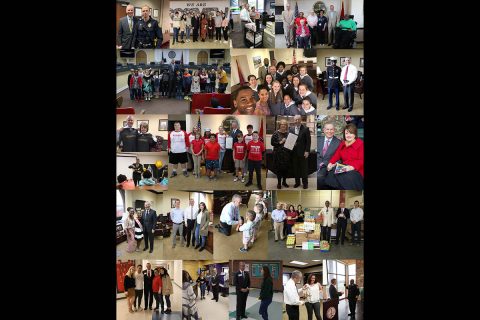 Local Government Collaboration
Implementing a key campaign promise, Clarksville Mayor Pitts has dramatically changed the tone of intergovernmental communication and coordination, especially with Montgomery County Government. Mayor Pitts has established and maintained regularly scheduled meetings with Montgomery County Mayor Jim Durrett, APSU President Alisa White, Nashville State-Clarksville President Shanna Jackson and CMCSS Schools Director Millard House.
City Department Heads have met with Fort Campbell officials to discuss ways the post and city can collaborate and coordinate service delivery and facilities.
Mayor Pitts also quickly built strong collaborative relationships with City Council members, with thoughtful committee assignments, and more attention to the City's departmental committee process.
New Department Leaders
After the announced retirements of Fire Chief Mike Roberts and Clarksville Transit System Director Arthur Bing, both effective at the end of June, the Mayor conducted comprehensive searches for a new Fire Chief and a new CTS Director using committees of citizens and experts to help evaluate candidates.
These successful searches culminated in the appointment of Freddie D. Montgomery Jr. as Fire Chief effective August 1st and the appointment of Paul Nelson as Clarksville Transit Director in November. Montgomery joined CFR after a stellar 25-year career with the Hopkinsville Fire Department, and Nelson takes the helm of CTS after serving as the system's Interim Director and second in command for several years.
Mark Riggins was named General Manager of Clarksville Gas & Water, after former GM Pat Hickey resigned April 4th. Riggins led the department for several months as Acting GM, and then was promoted to GM in August.
David Smith, project manager for Clarksville Municipal Properties, is currently serving as Interim Director at the Clarksville Building & Codes Department. Mike Baker, Building & Codes Director since 2012, retired June 30th after 20 years with the department.
Budget Foundation
Mayor Pitts' leadership choices were clearly defined and made public during the annual budgeting process, which was completed in June.
Budget process changes resulted in smooth evaluation and unanimous adoption of $523 million city budget, and a $103 million general fund budget. The 2021 Budget was approved with no increase in the City's tax rate.
Here's how Mayor Pitts described his 2020 Budget:
It provides additional resources for the public safety needs of our growing population.
It aggressively attacks our growing need to build streets and roads to fight traffic congestion.
It provides for better parks, more healthy-living amenities and more recreational opportunities for our citizens.
It reflects the highest level of fiscal responsibility, proposing aggressive and innovative strategies to position the City for a successful future, while calling for no increase in property taxes.
These budget priorities were presented and approved:
Roads
The City's crowded thoroughfares are one of Clarksville's pressing issues. Mayor Pitts has quickly gone to work with the City Street Department to complete a 2020 Traffic Study. In February 2020, Mayor Pitts expects to introduce a major plan to tackle the City's most pressing roadway projects, including new thoroughfares, improvements to key intersections, and addition of sidewalks around schools and other high-pedestrian need areas. This plan will outline costs and funding options available to pay for major road improvements.
The plan will include updates about these key road projects:
Plans to improve Whitfield Road near the 101st Airborne Division Parkway, Needmore Road and Glen Ellen Elementary School.
Right of way planning and preliminary design on the Northeast Connector, a major city-built roadway to take traffic pressure off of crowded roads such as Wilma Rudolph Boulevard, the 101st Airborne Division Parkway, and Trenton Road.
Progress on the first phase of the project to improve Rossview Road, near the Rossview Schools Campus, closest to the schools complex and Interstate 24.
Clarksville Parks and Recreation
Mayor Pitts plans to move forward with Phase 1 development of more than 300 acres acquired last year at Exit 8 for a new Clarksville Family Athletic Complex. Phase One, which is being designed, will focus on adding soccer and multipurpose athletic fields for youth leagues.
Work also continues on Clarksville's quest to complete a 10-mile hiking and biking trail linking the City's downtown riverfront with Northeast Clarksville.
The Tennessee Department of Transportation announced in August that Clarksville will receive a $1.82 million federal Transportation Alternatives Project grant for construction of a pedestrian bridge over the Red River. Clarksville will be responsible for about $675,000 of the total $2.5 million project, including a 20 percent matching amount and all engineering, design and right-of-way costs.
The project, Red River Trail East Phase 2, provides the final connecting link between the Clarksville Riverwalk and the Clarksville Greenway. It will involve construction of a 290-foot long, 10-foot wide bridge that will cross the Red River at the site of a former railroad bridge. The bridge is the final phase the Red River Trail, which is part of the 1999 Greenways Master Plan. The new bridge and ramp will connect the Clarksville Greenway to the north with the Red River Trail and the Clarksville Riverwalk to provide an uninterrupted pedestrian and bike route from North Clarksville at Tiny Town Road to Downtown. The Red River Trail also includes a connection to the Austin Peay State University campus from the Kraft Street area.
Public Safety
Mayor Pitts supports building a new Police District 3 Precinct Headquarters near Exit 8. He also helped the Clarksville Police Department introduce Officer Body-Worn Camera technology across the City.
Reacting to a sudden call to duty, Mayor Joe Pitts offered a solemn address to the citizens of Clarksville in June after a double homicide in the parking lot of a local restaurant in the City's busiest commercial district.
The crime hit home with particular force for Mayor Pitts, who was dining inside the restaurant with a group of friends and family members when the crime occurred outside. Here is part of his statement:
"(Wednesday) night our city experienced a crime that is unfamiliar to us — a double homicide at a local restaurant. According to reports from our police department, rival motorcycle gangs chose to exercise lawlessness and commit cowardly acts.

"Let me pause to commend our first responders who were quickly on the scene. Our Police, Fire and Rescue, and EMS workers were very professional in their approach to attending to the victims, and gathering information from those of us in the restaurant. As a community we can all be proud of them not just for (Wednesday) night but everyday.

"I want to address the citizens of our community. Our first impulse as humans is to panic, or to think this is a beginning to a crime wave. Let me state without hesitation, it is not.

"The actions of a few cowboys on motorcycles who deliberately sought out another human being to kill, are isolated but very unnerving. We don't expect this sort of thing to happen in our beautiful city. But here we are — facing the reality that it can happen anywhere.

"So (tonight), and the rest of our days, let us resolve to support our police. Support our first responders. And support one another."

A month later, Mayor Joe Pitts renewed his call for citizens to help police prevent and solve homicides and other violent crimes in Clarksville.

"We have already seen 10 homicides so far in 2019. While the Clarksville Police Department has been effective in solving many of these crimes, we need the public's help to ensure criminals are caught quickly and brought to justice."
Throughout his first year in office, Mayor Pitts met regularly with CPD leaders to analyze crime data and discuss ways to engage the public in the City's crime-fighting efforts.
The Mayor also remained focused on these various topics during his First Year in office:
Communications
Mayor Pitts has expanded the City's use of Social Media and traditional media and communications to inform and engage the community. A new City website was introduced April 8th.
Other Issues
The Mayor and department leaders are evaluating ways to bring more parking facilities downtown, and another evaluation of a new location for the CTS Transit Center downtown is under way.
Here's a list of actions taken or initiatives started in Mayor Joe Pitts first year in office.
Intergovernmental Initiatives
City Department Heads have met with Fort Campbell officials to discuss ways the post and city can collaborate and coordinate service delivery and facilities. This has resulted in work on developing Intergovernmental Support Agreements (IGSAs) with Fort Campbell.
Launched the city on a course to be designated, along with Montgomery County, as an AARP "Livable Community."
Established, with Montgomery County, an Interstate Exit Enhancement Task Force.
Internal Administration Initiatives
Mayor Pitts introduced weekly Departmental Situation Reports (SITREPS) for department heads to inform the Mayor and other departmental leaders about on-going initiatives, critical tasks, and important upcoming events.
Launched a Wellness Committee with members from various city departments to develop and launch wellness and well-being initiatives for the benefit of city employees.
Initiated development of a phased approach to strategic management. Known as T3 (Transition-Transform-Transcend), Department Heads have begun meeting more frequently to assess how the city operates, determine how the various departments align with the City Vision and Mission, and to develop of a strategic plan.
Re-designed the budget development process to integrate the City Council into the budget development process earlier.
Introduced several programs to encourage and empower the City's workforce, including sending a greeting to every employee on their birthday, and using a "59-Minute Time Off Card" to reward employees for extraordinary performance.
Community Initiatives
Mayor Pitts initiated steps to raise awareness of the Mayor's active interest in supporting the full constituent base. This includes introducing web forms to request the mayor's attendance at events and for proclamations and certificates of recognition.
Re-launched the Mayor's Youth Council.
Jointly sponsored a small business seminar with APSU's Dr. Lorneth Peters to create a dialogue between small business owners and City government on how to do business with City government, the federal government, and other resource providers. Also working with Councilman Vondell Richmond to promote a focus on business development and entrepreneurship