#13/15 Tennessee (11-5, 2-2 SEC) vs. #3/3 Notre Dame (16-1, 5-0 ACC)
Monday, January 18th, 2016 | 7:00pm ET/6:00pm CT
Notre Dame, IN | Purcell Pavilion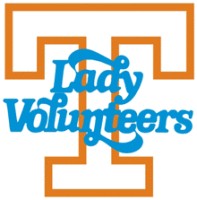 Knoxville, TN – The #13/15 Lady Vols (11-5) will try to get back on the winning track at #3/3 Notre Dame (16-1) on "Big Monday." Tipoff is slated for 7:01pm ET/6:01pm, and the game will be televised on ESPN2 and available online via WatchESPN.
Tennessee enters Monday's showdown after dropping two of its last three games, including a 64-59 upset loss to unranked Arkansas (7-10, 2-2 SEC) on Thursday night.
Notre Dame, meanwhile, has won its past nine games, including a 63-50 road victory over Boston College (12-4, 0-3 ACC) on Thursday evening.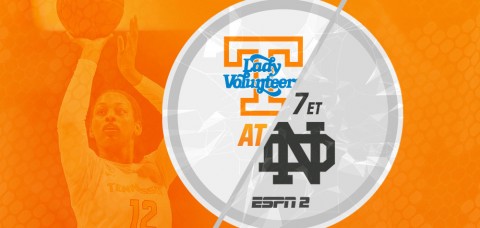 UT will use its SEC bye date vs. the Irish.
Under Holly Warlick, Tennessee is 30-12 in road games, 57-8 at home and 10-5 at neutral sites for a total of 97-25.
The Series Vs. Notre Dame
Tennessee holds a 20-5 all-time record vs. Notre Dame, dating back to November 25th, 1983, but the Fighting Irish have claimed the last five encounters between these programs. The Lady Vols are 8-2 all-time in Knoxville, 8-2 at Notre Dame and 4-1 at neutral sites vs. the Irish. The teams have never played an overtime game.
Holly Warlick is seeking her first win vs. Notre Dame as head coach in her fourth attempt.
These two teams have played only six games that were decided by 10 or fewer points, with Tennessee winning four of them. The scores were: 62-57 UT on 11/24/84, 71-63 UT on 12/9/85, 85-82 UT on 1/12/92, 74-64 UT on 3/30/2008, 77-67 ND on 1/28/13 and 88-77 ND on 1/19/15.
Tennessee won the first 20 games in the series before #9/7 Notre Dame defeated the #4/4 Lady Vols, 73-59, in an Elite Eight matchup in Dayton, Ohio, on March 28th, 2011. The Irish have won by an average score of 79.2 to 63.4 the last five meetings.
The 28-point margin of defeat at the hands of the Irish in 2012 was the second-worst in Tennessee history, and the 44 points in a game were a program low until UT scored 43 vs. Virginia Tech on December 6th this season.
#1/1 Tennessee hit 7-of-8 three-pointers for a school-record percentage of 87.5% in a 105-70 victory at Notre Dame on January 7th, 1994. UT's Angie Bjorklund knocked down seven threes at Notre Dame on January 5th, 2008, tying for third-most treys by a Lady Vol in a single game.
The series had alternated away and home games since its inception, but five of the last 14 matchups have come at neutral sites.
After playing in Knoxville two years in a row, Tennessee is reciprocating by making back-to-back visits to Notre Dame.
The series returns to Thompson-Boling Arena next season.
Tennessee is 108-23 all-time vs. ACC schools, including 1-1 this season (W-Syracuse; L-Va. Tech).
About the Notre Dame Fighting Irish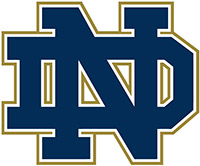 Despite key losses from last season, Notre Dame continues to roll and enters Monday night's contest with 16-1 record, with its only loss coming at the hands of #1/1 UConn (91-81 on December 5th). Notre Dame and Tennessee share one common opponent, with the Irish beating Oregon State (currently ranked #12/10) at home (62-61) and UT beating the Beavers (53-50) in Corvallis, OR.
Senior guard Madison Cable (14.7 ppg.) leads four players in double figures for the Irish. Sophomore forward Brianna Turner, ND's leading rebounder at 6.9 per contest, is the second-leading scorer at 13.2, followed by reserve freshmen guards Marina Mabrey (12.9) and Arike Ogunbowale (11.2).
The Irish feature a roster of stellar shooters, combining for 49.5% from the field and 44.9% on three-pointers. Notre Dame has a 1.3 assist-to-turnover ratio, tallying 314 helpers compared to 250 miscues. The Irish have allowed five teams to score 72 or more points, compared to UT allowing only one.
Head coach Muffet McGraw is in her 29th year at Notre Dame (715-222) and in her 34th season overall (803-263).
ND is the defending regular season and tourney champion of the ACC.
About the Tennessee Lady Vols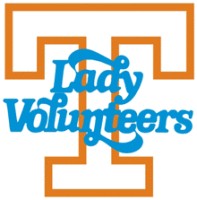 Tennessee will need to bounce back quickly after Thursday night's 64-59 loss at Arkansas. The setback, UT's second already in conference play, drops the Lady Vols two games behind league leader South Carolina. UT had won four of its last five games before stumbling in Fayetteville.
Holly Warlick has been starting three sophomores, a junior and a senior in the past four games.
Tennessee is led in scoring by redshirt sophomore guard Diamond DeShields, who is averaging 15.3 points per game. Redshirt sophomore center Mercedes Russell and senior forward Bashaara Graves also hit for 10 or more points per game at 11.1 and 10.8, respectively. Russell (8.7) and Graves (8.6) are Tennessee's top rebounders, followed by DeShields at 5.5.
Defensively, Tennessee is allowing only 57.6 points per contest, which would rank as the fifth-best effort in school history. Offensively, however, the Lady Vols are putting up only 66.7 points per game, which would replace 69.3 (1983-84) as the lowest in UT annals.
Tennessee will try to avoid back-to-back losses for the first time since dropping games at Chattanooga (November 26th, 2014) and Texas (November 30th, 2014).
After facing Notre Dame, Tennessee will return home to host Vanderbilt on Thursday (SEC Network, 7:00pm) on January 21st for UT's home "We Back Pat" game.
Tennessee Trending Topics
Tennessee has the nation's No. 2 ranked strength of schedule this season, according to the NCAA. UT's opponents thus far have a .724 winning percentage (168-69), and UT's future opponents are winning at a .728 rate (134-50). The Lady Vols are No. 13 in the RPI after the loss to Arkansas.
UT embarks on a three-game week and will meet three top-10 ranked opponents (#3/3 Notre Dame, #9/9 Kentucky and #7/6 Mississippi State) in its next four games. Unranked Vanderbilt comes between the Irish and Wildcats.
Mercedes Russell has double-doubles in her last two games and has shot 50% or better in 14 of 16 games this season. Tennessee has blocked at least five shots per game over the past six contests.
Bashaara Graves is 12-of-13 and Diamond DeShields is 13-of-16 on their charity tosses over the last four games, helping UT shoot 75% in that span. DeShields was named to the John R. Wooden Award Women's Midseason Top 20, joining fellow SEC players Tiffany Mitchell and Aja Wilson of South Carolina and Victoria Vivians of Mississippi State.
Turnovers continue to plague the Lady Vols, as UT squandered a season-high 24 possessions with miscues vs. Arkansas. UT has surrendered 21, 19 and 24 turnovers in the last three games, resulting in the Lady Vols losing two of three.
The Lady Vols recorded their highest shooting percentage of the season, hitting 59.6% (34-57) vs. the Auburn on January 10th, but that effort was sandwiched by their lowest percentage (29.3%) vs. Florida on January 7th and another sub-par effort (34.8%) vs. Arkansas.
Six Lady Vols have combined to miss 40 games this season due to injuries, making it a slow process for UT to develop on-court chemistry and continuity this season. Nia Moore has pushed UT's available player list back up to 11, playing four minutes vs. Auburn and Arkansas and averaging four points per game. Her return marked the most Lady Vols in action since 11 played vs. both Syracuse and Chattanooga on November 20th and November 23rd.
After knocking off undefeated Missouri on January 4th, Tennessee had handed teams their first loss this season (Central Arkansas, Penn State, Syracuse, Albany, Oregon State, Missouri).
Broadcast Information
Television | ESPN2
Play by Play: Dave O'Brien
Analyst: Doris Burke
---
Radio |  Lady Vol Network
Play by Play: Mickey Dearstone
---
Online/Mobile
www.UTsports.com
Free audio stream only
www.WatchESPN.com
Free video stream to registered cable subscribers
Tickets/Promotions
www.UTtix.com
1.800.332.VOLS (8657)