#24/25 Tennessee Lady Vols (16-8/7-4 SEC) vs. #RV/RV Texas A&M Aggies (18-6/8-3 SEC)
Sunday, February 12th, 2017 | 1:02pm CT
Knoxville, TN | Thompson-Boling Arena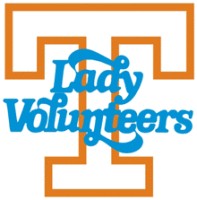 Knoxville, TN – Coming down the final stretch of the regular season, #24/25 Tennessee faces off against #RV/RV Texas A&M in a key SEC showdown on Sunday at Thompson-Boling Arena.
The game tips off at 1:00pm CT and will be broadcast on ESPNU and will be available online through WatchESPN. Visit WatchESPN.com or download the WatchESPN app to view the game on a computer or mobile device. Paul Sunderland (PxP) and Nell Fortner (Analyst) will describe the action between the Lady Vols and the Aggies.
Fans can also tune into their local Lady Vol Network station to catch Mickey Dearstone describing the action.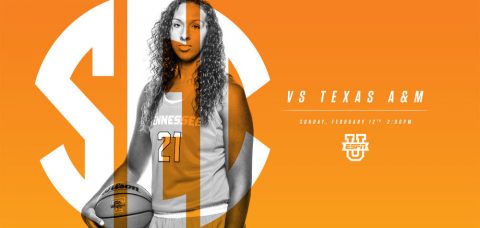 #24/25 Tennessee vs. #RV/RV Texas A&M
No. 24/25 Tennessee (16-8, 7-4 SEC) is back at home for the second game in a row, as #RV/RV Texas A&M (18-6, 8-3 SEC) comes calling on Sunday afternoon.
The 10th meeting between these schools will commence at 1:02pm CT in Thompson-Boling Arena in a game televised by ESPNU.
The Aggies are third in the SEC standings at 8-3, Kentucky is fourth at 8-4 and UT is fifth at 7-4.
UK has a bye this weekend, so a UT win would move the Big Orange into a deadlock for third in the league.
If Tennessee can pull off the victory, it would have tie-breaker advantages over A&M and Kentucky.
A loss, however, would leave UT 7-5 and in fifth place, holding the edge over LSU and Missouri.
The Lady Vols improved to 11-2 on The Summitt this season with a 77-66 win over #RV/NR Missouri on Thursday night, and Holly Warlick's squad will try to win its fifth straight home game Sunday.
Tennessee has won five of its past six games and is 12-4 since finding itself 4-4 on December 11th after a five-point road loss to (now) No. 11/10 Texas.
Texas A&M arrives in Knoxville on a three-game winning streak and the victor in four (all at home) of its past five games. The only loss was at #4/3 Mississippi State (71-61) on the road.
The wins at Reed Arena were against LSU, Florida, Auburn and Alabama.
The Aggies are 4-4 away from College Station, including 2-3 in the league. Among its road losses, A&M fell 78-76 in overtime at Missouri on January 19th and lost, 69-59, at Georgia on Janruary 5th.
Broadcast Information
Paul Sunderland (PxP) and Nell Fortner (Analyst) will describe the action for the Tennessee-Texas A&M broadcast on ESPNU.
All of the games included in the SEC Network (SEC Network, SECN+) package and the ESPN package (ESPN, ESPN2, ESPNU) will be available through WatchESPN, accessible online at WatchESPN.com, on smartphones and tablets via the WatchESPN app, and streamed on televisions through Amazon Fire TV, Apple TV, Chromecast, Roku, Xbox 360 or Xbox One to fans who receive their video subscriptions from affiliated providers.
Mickey Dearstone will handle the call for the IMG College/Lady Vol Network radio/online broadcast. Airtime is 30 minutes prior to tip-off on network stations.
Promotional Activities
Kids' Corner, located at Gate F, will be open from 1:00pm to tip-off. Sunday's Kids' Corner activities are free and include face painting, a prize wheel and Valentine's Day-themed crafts.
Sprocket Rocket, Elektra Blu and newcomer California Crush, from the K9 Crew Disc Dog Team, return to flip, jump and catch during halftime.
Home Sweet Home
This is the 30th season that the Tennessee women's and men's basketball teams have called Thompson-Boling Arena home, and the Lady Vols own an incredible 426-34 mark (.927) in the venue.
All-time, the Lady Vols have a 579-58 (.909) home record in contests played at Thompson-Boling Arena, Stokely Athletics Center and Alumni Gym.
UT is 11-2 at home in 2016-17.
Thompson-Boling Arena has an official seating capacity of 21,678.
UT has led the nation in attendance 19 times in the past 25 years, finishing second the past two years after an 11-season run at No. 1.
Tennessee ranks second in the nation in home attendance this season with an average of 8,949 through 13 dates.
Sizing Up the Lady Vols
Tennessee ranks #14 in the most recent NCAA Women's Basketball Rating Percentage Index (RPI).
The Lady Vols stand #2 in the latest NCAA Toughest Schedule Report behind UConn.
With numerous key games still to be played before Selection Monday, the NCAA Division I Women's Basketball Championship Sport Committee on February 6th provided the second of three regular-season top 16 rankings in seed order.
While UT is not among the 16 teams, it has beaten #3 South Carolina (76-74), #6 Notre Dame (71-69) and #8 Stanford (59-51). UT lost to #2 Baylor (88-66), #4 Mississippi State (74-64) and #11 Texas (72-67).
The latest edition of Charlie Creme's Bracketology has the Lady Vols playing in Louisville, KY, as a No. 5 seed facing #12 seed UALR of the Sun Belt Conference in the first round of the NCAA Oklahoma City Regional.
UT has gone from being a No. 7 seed, to a No. 6 seed, to a No. 5 seed in the past three releases by Creme.
UT has played more ranked teams than any other SEC school (7) and has the second most wins over ranked teams (4) and second most over top-10 teams (3) in the league.
South Carolina is 6-0 vs. AP-ranked teams, while UT is 4-3, Kentucky is 2-3, Missouri is 2-4, Texas A&M is 2-1 and Mississippi State is 1-1. USC is 4-0 vs. top-10 teams, while UT is 3-2.
Milestone Watch
Mercedes Russell has 979 career points and needs 21 to join the 1,000-point club.
Diamond DeShields needs 79 points to hit 1,000 points at UT. She has 1,569 total combining her totals at Tennessee and North Carolina.
Schaquilla Nunn reached 1,000 career rebounds with her third board vs. LSU on February 2nd. She finished the evening with nine. She now stands at 1,009 for her career, with 910 of those coming at Winthrop, her previous school.
Nunn reached 1,000 career points (including 982 at Winthrop) earlier this season. She stands at 1,092 through the Missouri game.
Russell has 697 career rebounds and needs 103 to move into UT's list of players with 800 or more rebounds. There are 17 who've made the cut.
UT-Texas A&M Series Notes
Tennessee holds a 7-2 all-time record vs. Texas A&M, dating back to December 19th, 1997.
UT is 2-0 in Knoxville, 1-1 in College Station and 4-1 at neutral sites vs. the Aggies.
The Big Orange women are 5-2 vs. A&M since the Aggies joined the SEC.
A&M is 1-0 in overtime games vs. UT, defeating the Lady Vols, 76-71, at home on February 7th, 2016.
Diamond DeShields tallied nine and 21 points, respectively, vs. A&M in two meetings a year ago.
Kortney Dunbar hit three treys in last year's game in College Station, all in the first quarter.
Jordan Reynolds had 16 points at A&M and 0 vs. the Aggies in the SEC Tourney a year ago.
Mercedes Russell has 8/11, 11/6, 11/9 and 8/5 pts./rebs. efforts in four career games vs. A&M.
In the initial meeting between these teams in Knoxville, on February 28th, 2013, Tennessee defeated A&M, 82-72, on Senior Day to give
Holly Warlick
an SEC regular-season championship on the Lady Vols' home court in her first season as head coach. Her squad had been picked to finish as low as fifth and returned no starters.
Tennessee made its first-ever women's basketball appearance in College Station on Jan. 26, 2014, and the (then) #11/12 Lady Vols picked up a key victory over the (then) #17/15 Aggies, 76-55. A&M was the SEC leader at the time of that defeat.
UT has met A&M in other tournaments, including one regular-season and one postseason event.
After both of those tourney wins over the Aggies, the Lady Vols would advance to, and win, the NCAA Final Four in 1997-98 and 2007-08.
In the first meeting, the #1/1 Lady Vols rolled to a 105-81 victory over the Aggies at the Northern Lights Invitational in Alaska in game two of a three-game stay.
The famed "Three Meeks" dazzled #8/9 A&M in that contest, as Chamique Holdsclaw tallied 29, Semeka Randall tossed in 23 and Tamika Catchings added a double-double of 21 points and 12 rebounds for #1/1 UT in the high-scoring affair.
In 2008, Candace Parker scored 26 points and Alexis Hornbuckle chipped in 14, as the Lady Vols defeated Texas A&M, 53-45, in the Oklahoma City Regional Final to advance to the Final Four in Tampa.
About the Texas A&M Aggies
Texas A&M returned two starters and six letterwinners from a squad that posted a 22-10 overall record.
The Aggies finished 11-5 in SEC play, tying for second a year ago.
A&M made the SEC Tournament quarterfinals, where they were ousted by Tennessee.
Texas A&M advanced to the second round of the 2016 NCAA Tournament, finishing 18th in the AP Poll and 20th in the USA TODAY Coaches Poll.
Sophomore guard Danni Williams and 6-5 junior center Khaalia Hillsman have emerged as the team's scoring leaders at 17.8 and 17.0 per game, respectively.
Point guard Curtyce Knox, meanwhile has dished out an astounding 228 assists in 24 games (9.5 apg.) and scores 10.8 ppg.
Forward Anriel Howard averages a double-double of 10.6 point and 10.9 rebounds.
Texas A&M is coached by Gary Blair, who is 327-135 in his 14th year in College Station. He is 735 and 298 overall in his 32nd season.
Blair has been a head coach at Stephen F. Austin (1985-93), Arkansas (1993-2003) and A&M (2003-Present), leading the Aggies to the 2011 NCAA title and Arkansas to a 1998 Final Four appearance, where the (then) Lady Razorbacks fell to Tennessee in the semifinals, 86-58.
The Last Time These Teams Met
Diamond DeShields scored 21 points, Bashaara Graves added 19 and Tennessee upset No. 2 seed Texas A&M in the SEC Tournament quarterfinals, 70-60, on March 4th, 2016, at Veterans Memorial Arena in Jacksonville, FL.
DeShields scored 14 points in the second half and her energy on defense helped Tennessee (19-12) limit the Aggies (21-9) to just 35.8-percent shooting. She and Graves each shot 7-of-11 from the floor and they combined to go 11-of-12 from the free-throw line.
Graves collected seven rebounds and was aggressive in the paint, setting the tone in the first half.
The Lady Vols had 24 points off the bench and shot a season-best 91.7 (22-of-24) percent on free throws.
Courtney Williams paced the Aggies with 20 points, and Courtney Walker added 12 points. Tennessee did a good job of containing Walker, who averaged 18.3 points per game entering the contest. Walker was just 4-of-16 from the floor.
During the Regular Season Last Year
Jordan Reynolds scored a season-high 16 points, but the No. 23/25 Lady Vols came up short in the fourth quarter and overtime in a 76-71 loss to No. 12/11 Texas A&M on February 16th, 2016, at Reed Arena.
Tennessee (14-9, 5-5 SEC) dominated the third quarter and held a 13-point lead early in the fourth. Texas A&M (16-7, 6-4 SEC) outscored the Lady Vols 36-20 in the fourth quarter and OT.
Reynolds scored 16 points on 7-of-13 shooting and also collected seven rebounds and three assists. Mercedes Russell nearly had a double-double with 11 points and nine rebounds. Andraya Carter added 11 points, five boards and four assists in the loss.
Texas A&M's Courtney Walker scored a game-high 29 points, going 9-of-26 from the floor and 11-of-11 on free throws. Khaalia Hillsman added 14 points for the Aggies.
The Lady Vols led by as much 53-40 early in the fourth quarter, but the Aggies clawed their way back to within 61-59 with 45 seconds left. Anriel Howard hit a mid-range jumper after collecting an offensive rebound with five seconds left to send the game into overtime.
The Last Time They Met in Knoxville
#7/9 Tennessee won its ninth game in a row, taking down #9/8 Texas A&M, 81-58, on January 8th, 2015, at Thompson-Boling Arena. The victory for Tennessee (13-2, 3-0 SEC) was its third of the year over a top-10 opponent and fourth over a ranked team during the nine-game win streak.
Texas A&M suffered its first conference loss of the season and stood at 14-3 overall and 2-1 in the SEC.
Tennessee's 81 points were the most allowed by A&M all season and the most since the Lady Vols scorched the Aggies for 86 points in the 2014 SEC Semifinals.
Tennessee's senior trio of Isabelle Harrison, Cierra Burdick, and Ariel Massengale combined for 49 points and 23 rebounds.
Harrison netted a season-best 21 points and grabbed eight rebounds. Burdick scored 14 points and corralled 11 rebounds. Massengale also netted 14 points.
Taking on the top team in field goal percentage defense in Texas A&M (32.3 entering the game), Tennessee shot a season-best 52.4 from the floor. That was the best percentage against the Aggies all season.
Aggies Win Eighth Straight at Home
Texas A&M picked up its eighth straight home win, defeating Alabama 69-48 in the annual BTHO Breast Cancer game Thursday night at Reed Arena.
The Aggies (18-6, 8-3 SEC) never trailed in the game, racing out to a 34-20 lead over Alabama (15-9, 3-8 SEC) by halftime.
Khaalia Hillsman and Danni Williams co-led the Aggies with 19 points apiece. Anriel Howard added her 12th double-double of the season with 18 points and 10 rebounds.
Curtyce Knox led the Aggies with 12 assists, moving past Sydney Colson's 2010-11 season for third on Texas A&M's single-season list with 228.
The Aggies had 23 assists on 28 field goals vs. the Crimson Tide.
Lady Vols Surge Past Tigers
Diamond DeShields fired in 22 points, as the Lady Vols pulled away from Missouri in the fourth quarter to win, 77-66, in Thompson-Boling Arena on Thursday night.
Although the teams fought neck and neck through the first three periods of play, #24/25 Tennessee (16-8, 7-4 SEC) exploded in the fourth to put a gritty Missouri team (16-9, 6-5 SEC) away behind 75 percent shooting from the field during the period.
UT had four players in double digits for the night. DeShields' 22 points marked the ninth time this season she cracked the 20-plus plateau. She also added six rebounds, three assists and a pair of steals in the contest.
Jaime Nared, Mercedes Russell and Jordan Reynolds added 18, 12, and 12, respectively, as the Lady Vols pulled out the win versus the Tigers. Reynolds also posted an SEC-high eight assists and four rebounds on the night.
Coming Up on the Schedule
After hosting Texas A&M, Tennessee will play at Alabama at 7:00pm CT/8:00pm ET on Thursday night in a game broadcast online via SECN+/WatchESPN.
After the A&M game, the Lady Vols have four regular season games remaining, including two at home (Arkansas, Florida) and two on the road (Alabama, Mississippi State).
Next up for Texas A&M, the Aggies travel to Baton Rouge to take on LSU at 7:00pm CT on Thursday. A&M then closes with Mississippi State, and South Carolina in College Station and at Ole Miss.