#6 Tennessee at #17/16 Texas A&M
Thursday, January 11th, 2018 | 6:10pm CT
College Station, TX | Reed Arena | TV: SEC Network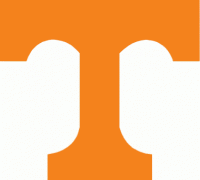 Knoxville, TN – No. 6/6 Tennessee begins a three-game road swing, as the Lady Vols travel to College Station, Texas, to face No. 17/16 Texas A&M at 6:10pm CT (7:10pm ET) on Thursday, January 11th, 2018.
The Lady Vols' match-up with Texas A&M is the first of four straight UT contests vs. teams ranked in the AP Top 20. The Lady Vols and Aggies will be meeting for the 11th time overall and third time in College Station during the series.
The Lady Vols will be aiming to go 16-0 for only the fourth occasion in school history and for the first time during the Holly Warlick era. The last time Tennessee began a season 16-0, the Lady Vols extended the streak to 18 games before finally falling during the 2005-06 season en route to a 31-5 overall record and an Elite Eight finish.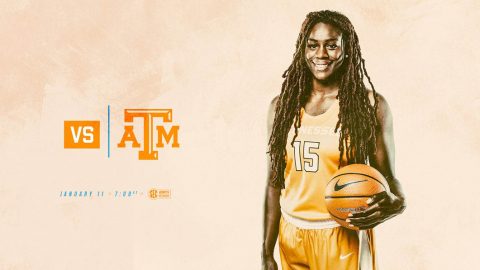 UT has opened SEC play 3-0 for the first time since 2014-15 and for the third time during the Holly Warlick era (also in 2012-13). The Lady Vols used a late 13-4 run in the fourth quarter to stave off upset-minded Vanderbilt, 86-73, on Sunday in Knoxville and remain unbeaten.
Texas A&M opened SEC play with a narrow loss at South Carolina (61-59), but bounced back to win its next two games, 74-70 over Kentucky and 83-82 over Auburn. The Lady Vols also have beaten Kentucky (63-49) and Auburn (70-59) early in SEC play.
The teams also had a common foe in non-conference play, with UT defeating Central Arkansas, 77-34, and A&M topping the Sugar Bears, 72-61. The Aggies losses have come to #8/9 Oregon (twice), #15/15 West Virginia and #9/8 South Carolina.
Broadcast Information
Pam Ward (play-by-play), Gail Goestenkors (analyst) and Steffi Sorensen (reporter) will describe the action for the Tennessee-Texas A&M TV broadcast on the SEC Network.
Mickey Dearstone is handling the call for IMG College/Lady Vol Network radio/online broadcasts for the 19th season. A link to the live audio stream can be found on each game's Hoops Central page or the Lady Vol schedule on UTSports.com.
Air time for games on the Lady Vol Radio Network generally occurs 30 minutes prior to tip-off.
Coming Up On The Schedule
After the Texas A&M match-up the Lady Vols continue their most grueling stretch of the season, facing three more ranked teams (all three of them among the top 10) in eight days.
At #9/8 South Carolina (Jan. 14, 12:00pm CT)
At #2/2 Notre Dame (Jan. 18, 6:00pm CT)
Home vs. #4/3 Mississippi State (Jan. 21, 2:00pm CT)
Battle of the Bigs
Thursday night's match-up will pit two of the SEC's best bigs, UT's Mercedes Russell and A&M'S Khaalia Hillsman, against one another.
Tennessee's Mercedes Russell averages 17.1 ppg., 8.5 rpg., 1.8 bpg. and 1.2 spg. while shooting 64 percent from the field to rank second among SEC players.
In SEC play, Russell is averaging 19.4 ppg., 7.0 rpg. and 3.3 bpg., while shooting 65 percent from the floor to also rate second among league players.
Hillsman is averaging 19.0 ppg. and 8.3 rpg. and is shooting 69 percent from the field in SEC play to rank first.
Fabulous Freshmen
Four of the SEC's top freshmen will be in action at Reed Arena when UT and A&M do battle.
Tennessee's trio of forward Rennia Davis (11.0 ppg., 8.3 rpg.), guard Anastasia Hayes (10.9, 3.2 rpg., 3.9 apg.) and guard Evina Westbrook (9.9 ppg., 4.7 apg., 3.0 rpg.) have helped fuel UT's unbeaten start, with Davis and Westbrook starting every game and Hayes serving as Holly Warlick's first choice off the bench.
Texas A&M, meanwhile, boasts the league's second-leading scorer in Chennedy Carter, who averages 20.8 ppg. She also leads the Aggies in assists at 5.1 per contest.
RPI Watch
Tennessee ranks No. 12 in the latest NCAA RPI.
Below are teams on Tennessee's schedule this season that are ranked in the top 150. The teams the Lady Vols already have played are underlined.
2. Notre Dame, 3. Mississippi State, 4. Texas, 11. South Carolina, 14. Missouri, 17. Texas A&M, 22. Marquette, 27. Stanford, 34. Georgia, 44. LSU, 50. Oklahoma State, 63. Arkansas, 78. Alabama, 85. Central Arkansas, 90. Auburn, 101. South Dakota, 103. Ole Miss, 106. Kentucky, 127. Vanderbilt.
Tennessee Reset
At 15-0, the Lady Vols are in the midst of their longest winning streak since reeling off 25 in a row from December 18th, 2010, to March 28th, 2011. UT is one of only four undefeated teams remaining in NCAA Division I basketball. The other squads are Connecticut, Louisville and Mississippi State.
Tennessee is one of only two SEC schools remaining unbeaten in league play. That club also includes Mississippi State. UT just hosted its best crowd of the season, as 10,023 looked on vs. Vanderbilt.
The Big Orange women have won 13 of 15 games by double-digit margins, including the first three SEC contests. The largest victory margins include 43 vs. Central Arkansas, 53 vs. Alabama State, 62 vs. Troy, and 29 vs. Long Beach State.
Tennessee opened league play with a 14-point win at Kentucky, UT's biggest margin of victory over the Cats in Lexington since 2008, and then beat Auburn by 11, 70-59, and Vandy by 13, 86-73.
UT has led every game this season at the half except for a tie vs. Auburn (30-30) and has owned a double-digit advantage at the intermission in 10 of 15 contests (Wichita State, Marquette, Texas, Auburn and Vandy are the exceptions).
The Lady Vols have allowed only three opponents to score more than 71 points (Marquette – 99, Texas – 75, Vandy – 73) and a have allowed only two teams to shoot better than 40 percent from the field (Vanderbilt, .491 & Marquette, .437).
Holly Warlick has started the same five players every game thus far. That quintet includes Jaime Nared and Rennia Davis at the forward positions, Mercedes Russell at center and Evina Westbrook and Meme Jackson at guard.
It's the longest Tennessee has opened a season with the same starting five since at least the 1977-78 season. Box scores that season and prior do not indicate who started.
In Lady Vol history, the most recent long streak for the same starting five reached 11 games in 2007-08, when Pat Summitt chose the same lineup of Candace Parker, Angie Bjorklund, Nicky Anosike, Shannon Bobbitt and Alexis Hornbuckle to report for the opening tip. UT went 10-1 in that span and went on to win the NCAA title with a 34-3 record and the SEC title with a 14-0 mark. In game 12, in the team's visit to Chicago, Parker missed curfew and didn't get the starting nod vs. DePaul on January 2nd, 2008.
UT has four players averaging double figures in scoring, including seniors Jaime Nared (17.3) and Mercedes Russell (17.1), and freshmen Rennia Davis (11.0) and Anastasia Hayes (10.9). Evina Westbrook (9.9) is right behind them, knocking on the door.
Nared and Russell have led UT in scoring six times, followed by Hayes (2), and Davis, Meme Jackson and Evina Westbrook (1).
Russell has scored in double figures 15 times, followed by Nared (13), Hayes (10), Davis (7), Westbrook (7), Jackson (4), Green (3) and Dunbar (1).
Russell (33 points) and Green (17 points) are coming off career-high games vs. Vanderbilt.
Tennessee has outscored its opponents in the points-in-the-paint category in 12 of 15 games, averaging a 42.9 to 29.3 difference.
The Lady Vols bested their foes in second chance points 12 times and tied another time. UT averages 15.8 second chance points, while its opponents tally 9.9.
Tennessee shot its best field goal percentage of the season (48.6) vs. Vanderbilt, but surrendered its highest percentage (49.1) as well vs. the 'Dores.
Tennessee vs. Texas A&M Notes
Tennessee holds a 7-3 all-time record vs. Texas A&M, dating back to December 19th, 1997. UT is 2-1 in Knoxville, 1-1 in College Station and 4-1 at neutral sites vs. the Aggies. The Big Orange women are 5-3 vs. A&M since the Aggies joined the SEC.
A&M is 1-0 in overtime games vs. UT, defeating the Lady Vols, 76-71, at home on February 7th, 2016, the last time these squads met in College Station.
Kortney Dunbar hit three treys in the 2016 game in College Station, all in the first quarter.
In the initial meeting between these teams in Knoxville, on February 28th, 2013, Tennessee defeated A&M, 82-72, on Senior Day to give Holly Warlick an SEC regular-season championship on the Lady Vols' home court in her first season as head coach. Her squad had been picked to finish as low as fifth and returned no starters.
Tennessee made its first-ever women's basketball appearance in College Station on January 26th, 2014, and the (then) #11/12 Lady Vols picked up a key victory over the (then) #17/15 Aggies, 76-55. A&M was the SEC leader at the time of that defeat.
UT has met A&M in other tournaments, including one regular-season and one postseason event.
After both of those tourney wins over the Aggies, the Lady Vols would advance to, and win, the NCAA Final Four in 1997-98 and 2007-08.
In the first meeting, the #1/1 Lady Vols rolled to a 105-81 victory over the Aggies at the Northern Lights Invitational in Alaska in game two of a three-game stay.
The famed "Three Meeks" dazzled #8/9 A&M in that contest, as Chamique Holdsclaw tallied 29, Semeka Randall tossed in 23 and Tamika Catchings added a double-double of 21 points and 12 rebounds for #1/1 UT in the high-scoring affair.
In 2008, Candace Parker scored 26 points and Alexis Hornbuckle chipped in 14, as the Lady Vols defeated Texas A&M, 53-45, in the Oklahoma City Regional Final to advance to the Final Four in Tampa.
Last Meeting Between UT and A&M
Texas A&M's Khaalia Hillsman scored the game-winning putback with four seconds left as No. 24/25 Tennessee fell to the Aggies, 61-59, on February 12th, 2017, at Thompson-Boling Arena.
Mercedes Russell led the Lady Vols (16-9, 7-5 SEC) with 17 points and 11 rebounds for her 14th double-double of the season. Texas A&M (19-6, 9-3 SEC) outscored UT 14-5 in the fourth quarter to maintain third place in the conference standings.
Alexa Middleton scored 14 points and recorded four assists, and Jaime Nared added nine points and seven rebounds. Danni Williams led the Aggies with 18 points. Hillsman logged a double-double with 10 points and 10 rebounds, while Curtyce Knox notched a double-double of her own, finishing with 10 points and 10 assists.
After holding a 20-15 advantage following the first quarter, Tennessee opened the second quarter with a 12-6 run over the first three minutes to build an 11-point lead. Texas A&M kept the score close as the Lady Vols went into the half ahead, 38-32.
Last Meeting at Reed Arena
Jordan Reynolds scored a season-high 16 points but the No. 23/25 Lady Vols came up short in the fourth quarter and overtime in a 76-71 loss to No. 12/11 Texas A&M on February 7th, 2016, at Reed Arena.
Tennessee (14-9, 5-5 SEC) dominated the third quarter and held a 13-point lead early in the fourth. Texas A&M (16-7, 6-4 SEC) outscored the Lady Vols 36-20 in the fourth-quarter and overtime.
Reynolds scored 16 points on 7-of-13 shooting and also collected seven rebounds and three assists. Mercedes Russell nearly had a double-double with 11 points and nine rebounds. Andraya Carter added 11 points, five boards and four assists in the loss.
Texas A&M's Courtney Walker scored a game-high 29 points, going 9-of-26 from the floor and 11-of-11 on free throws. Khaalia Hillsman added 14 points for the Aggies.
The Lady Vols led by as much as 53-40 early in the fourth quarter, but the Aggies clawed their way back to within 61-59 with 45 seconds left. Anriel Howard hit mid-range jumper after collecting an offensive rebound with five seconds left to send the game into overtime.
Kortney Dunbar provided a major boost for Tennessee in the first quarter, coming off the bench and hitting three 3-pointers. Her nine points in the game were her personal high in SEC play.
Texas A&M Reset
Texas A&M enters having won its last two and three of its last five. The Aggies are 9-2 at home this season.
A&M has four players scoring in double figures, including Chennedy Carter (20.8), Khaalia Hillsman (15.4), Danni Williams (15.1) and Anriel Howard (11.3). Howard makes it a double-double, averaged with 12.8 rebounds per game.
The Aggies gave South Carolina fits in Columbia, falling 61-59 on a late A'ja Wilson bucket for the Gamecocks.
A&M, picked fifth by the coaches and fourth by the media in the preseason polls, returned four starters from last season's 22-12 squad that finished 9-7 (6th) in the SEC and advanced to the NCAA Second Round.
Legendary coach Gary Blair is in his 15th year at the helm of the Aggies, owning a 344-145 record there. He is 752-308 overall in 33 seasons as a college coach, having led programs at Stephen F. Austin and Arkansas before arriving in College Station.
Blair led the Aggies to the 2011 NCAA title.
A&M Last Time Out (TAMU 82, UK 73)
Khaalia Hillsman scored a career-high 31 points, as No. 19 Texas A&M gutted out a 82-73 win over Auburn at Auburn Arena on Sunday, snapping the Tigers' eight-game home winning streak.
Texas A&M (13-4, 2-1 SEC) used a 13-2 run to start the fourth quarter to take control of the game, extending a three-point lead at end of the third quarter to a 14-point advantage over the Tigers (10-5, 1-2 SEC). The Aggies led 35-32 at halftime and did not extend the lead to double digits until the fourth quarter.
Hillsman was 10-of-11 from the field, which ties for third on A&M's single-game field goal percentage list, behind Hillsman's own 12-for-12 performance against Hawai'i on December 20th. Hillsman had the first 30+ point of her career, and the Aggies have had at least one player score 30+ points in all four of their true road games. She led the Aggies with 10 rebounds, good for her fourth double-double of the season.
Chennedy Carter added 22 points, marking her eighth 20+ point game of her 17-game career. She has scored at least 22 in all four of her road games, and is averaging 33.5 points per game on the road.
Danni Williams added 16 points, including a 3-pointer with 1:05 left that extended the Aggie lead to 12.
Tennessee Last Time Out (UT 86, VU 73)
Redshirt senior Mercedes Russell paced No. 7 Tennessee with a career-high 33 points, as the seventh-ranked Lady Volunteers pulled away from Vanderbilt in the fourth period to secure an 86-73 victory Sunday afternoon in Thompson-Boling Arena in front of a season-best crowd of 10,023.
With the win, the Lady Vols improved to 15-0, 3-0 in Southeastern Conference play, and won their 11th consecutive home game dating back to last season. Vanderbilt, meanwhile, fell to 4-13, 0-3 SEC.
Redshirt junior Cheridene Green also had a career day for the Big Orange, pouring in 17 points and grabbing five rebounds. Senior Jaime Nared chipped in 15 points, five rebounds and six steals, as the Lady Vols remained unbeaten through their first 15 games for the fourth time in school history.
Vanderbilt was led in scoring by Cierra Walker, who went 6-of-8 from behind the three-point arc and finished the day with 20 points and six assists. Christa Reed (16), Chelsie Hall (15) and Erin Whalen (10) also scored in double figures for the Commodores, who dropped their third straight game and seventh in their last eight.
Russell proved to be too long, too strong and too determined to be contained, connecting on 14-of-20 shots from the field and five-of-six from the charity stripe to surpass her previous career best of 26, which she notched vs. Auburn on January 19th, 2017.
Green, meanwhile, exploded in the second half to finish 7-of-8 from the field. She had eight points in the fourth quarter alone. Behind the inside play of Russell and Green, the Lady Vols controlled the paint all day, possessing 42-28 and 56-26 advantages in rebounds and points in the paint, respectively. UT also worked on the offensive glass, pulling down 17 caroms that led to a 23-6 advantage in second-chance points.