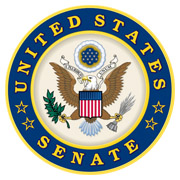 Washington, D.C. – Communist China is working hard to infiltrate every major U.S. sector, and the agricultural industry is no exception. We've already seen Beijing threaten to withhold critical lifesaving medications from the U.S. during the peak of COVID-19, and we cannot allow them to have that same grip on our food supply chain.
That's why my colleagues and I introduced the Foreign Adversary Risk Management (FARM) Act to bolster America's agriculture industry and help protect against improper foreign investment.
Read more here.
Weekly Rundown
Finishing the Wall
On day one of his administration, President Joe Biden paused construction of the border wall. Since then, the White House has intentionally implemented policies that allow drugs, smuggled migrants, and criminals to flow across the border unimpeded.
What's worse, they have repeatedly ignored our brave Border Patrol agents warning them of the danger and asking for a physical barrier. We simply cannot afford to let this crisis continue. Read about this legislation I cosponsored, which ensures that we finish building the U.S.-Mexico border wall.
Ending Rape Kit Backlog
Last year, a school teacher and mother of two young boys was murdered while out on an early morning run in Memphis. In the following days, law enforcement learned that in September 2021, her alleged killer had raped another innocent victim.
The rape kit from that 2021 attack was processed and returned the same day the teacher's body was discovered, with DNA matching that of the alleged killer. Had it not taken a year for Memphis Police to have the kit processed by TBI and receive the results, this woman would be alive today because her killer would have already been behind bars.
That's why I cosponsored legislation to reauthorize the Debbie Smith Act, which is critical in the fight to end the rape kit backlog and keep dangerous criminals off the streets.
Meeting 101st Airborne Division Major General McGee
This week, I enjoyed meeting with Major General McGee about the work of Tennessee's 101st Airborne Division, as well as Colonel Matthews and Colonel DuPont, both former Tennesseans who were stationed at Fort Campbell. I also spoke with leaders and industry professionals about privacy and data security.
Throughout my visit, there's one message I heard consistently: while the Chinese Communist Party tightens its grip on the technology market worldwide, it's critically important that the United States and our European allies stand together on data privacy and cybersecurity.
Marsha's Roundup
ICYMI