Clarksville,TN – Friends and family gathered on Friday to honor George Kazuo Nishimura, who was a member of the famed 442nd Regimental Combat Team, Military Intelligence Service.
Sponsored in part by F&M Bank and Clarksville Online, the ceremony was to present Nishimura with a bronze replica of the Congressional Gold Medal that had been awarded to his unit in 2010, in a unanimous vote of Congress, and approved by President Barack Obama.
Nishimura was left off of the list of veterans to receive their recognition due to a field promotion he received while serving his country, and a change in his serial number.  Through the efforts of friends and family, Nishimura received his award and was given his place in history on Friday.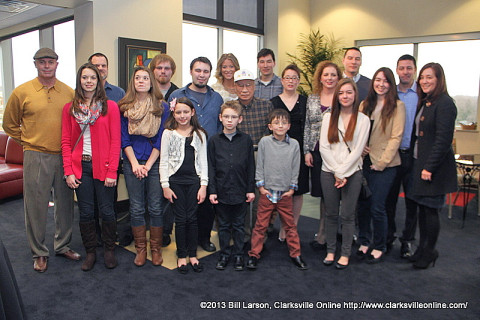 Nishimura, a Japanese-American, accepted his award humbly as State Senator Mark Green, a veteran as well, presented him the honor.
Dignitaries from the City of Clarksville and Montgomery County as well as State Representative Joe Pitts, Bo Patten from Congressman Marsha Blackburn's office, and LTC Richard Coyle from the command headquarters at Fort Campbell were on hand to recognize the invaluable service and sacrifice made by Nishimura.
Proclamations were read from Jerry Rivers, Director of Veteran's Services on behalf of Montgomery Mayor Carolyn Bowers, who made Friday, "George Nishimura" day.
Mayor Pro-Temp James Lewis read a brief statement on behalf of Clarksville Mayor Kim McMillan.
Representative Joe Pitts presented a join resolution from the Tennessee House and Senate recognizing the service of Nishimura.
LTC. Coyle spoke eloquently about the 442nd and the difficult times endured by the Japanese-American servicement.
The 442nd remains one of the most highly decorated military regiments in history, with 21 Medals of Honor, 52 distinguished Service Crosses, 560 Silver Stars, 4,000 Bronze Stars and 9,486 Purple Hearts awarded.
Nishimura was selected to serve in the Military Intelligence Service after training in Camp Shelby, Mississippi.  He went on to serve in the Pacific Theater but also served in Australia and Japan.
Senator Mark Green said, "this is one of the most special things I have ever done.  It's an honor to capture this moment in history, especially since I served with Mr. Nishimura's son-in-law.  Unless you have served your country, you will never know the bond that exists between soldiers and how distinguished it is to be recognized in this way."
Nishimura said he was "honored by all the attention, and grateful to be recognized by so many friends and dignitaries."
George Nishimura will celebrate his 90th birthday on Monday.
Clarksville Online did a series of reports on George Nishimura that you can read here:
90 Year Old Japanese-American Veteran to be honored Friday
One Man's Medal: The story of George Nishimura
One Man's Medal: The Story of George Nishimura: Part 2
One Man's Medal: The Story of George Nishimura: Part 3
One Man's Medal: The Story of George Nishimura: Part 4
Photo Gallery