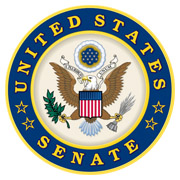 Washington, D.C. – Here's the scoop on impeachment. For the past three years, Representative Nancy Pelosi (D-CA), who is currently the Speaker of the House of Representatives, has grasped aimlessly at every unsubstantiated claim, desperate to find an impeachable offense.
There is a reason the only bipartisan vote in the House was against impeachment. President Donald Trump has not abused his power. If the House sends its articles of impeachment to the Senate and the trial begins, Tennesseans can count on me to stand with President Trump.
Funding Our Military
December has been a good month for our nation's military. Congress passed the National Defense Authorization Act, which creates a new Space Force and supports the most recent National Defense Strategy. I also supported fully funding our Armed Forces, and providing our nation's brave service members with an increase in pay.
As a member of the Senate Armed Services Committee and the Senate Veterans' Affairs Committee, I will always work to ensure that the men and women who wear the uniform have the resources they need to defend freedom.
Cutting Spending
Washington's spending addiction is out of control, which is why I voted against the spending bill for domestic programs and international aid. It will increase our nation's debt burden by approximately $400 billion and is loaded with extraneous provisions at the expense of American taxpayers. Watch here for the top ten reasons why I voted no.
Putting Aside Partisan Distractions
It was an honor to receive the golden gavel from Senate Majority Leader Mitch McConnell and Vice President Mike Pence for presiding over the Senate for 100 hours this year. Tennesseans sent me to Washington to work for them, not to play politics.
ICYMI: News You Can Use
The FBI got caught abusing its authority to spy on an American citizen. Last week, the Senate Judiciary Committee heard from Inspector General Michael Horowitz, who shed light on FBI misconduct and allegations of abuse of the FISA warrant process–prompting a rare rebuke this week from the courts.
Now, U.S. Attorney John Durham is leading a criminal investigation into the practices of the broader intelligence community on the origins of the Russia probe. You can watch my interview with Fox News on how the FBI spied on President Trump's campaign here.
It's baffling how the American public is bombarded by news of privacy violations and security threats, yet we continue to embrace a digital Wild West that has gone international. Beijing's best detective is a myriad of invasive apps, most notably TikTok, marketed to Americans but controlled by Chinese firms.
Private platforms are paving the way for the Chinese government to gain unfettered and unsupervised access to children — and it's happening under our noses.
Last week, The Washington Post exposed shocking details about the war in Afghanistan, validating almost two decades of barroom debate over what is an unprecedented outpouring of resources and troops. For lawmakers in Washington, the reporting raised serious questions about the trustworthiness of an agency that has guided policy in Afghanistan for two decades. Read my op-ed on the "Afghanistan Papers" here.
Marsha's Roundup
Imagine being in high school and walking the halls of the U.S. Capitol, studying our nation's rich history. Well, that's what Payton, from Middle Tennessee, is doing this semester as a Senate page.
What a treat to welcome Tennesseans to our nation's capital. If you're visiting Washington, be sure to reach out to my office for assistance scheduling a White House or Capitol tour.
It was great to be in Grundy County this week, catching up with folks. Visiting nearly every county across our state is a great way to close out my first year in office.
Stay In Touch
As a reminder, you can reach any of my six offices in Tennessee to share a concern or request assistance with a federal agency. The phone number for my Washington D.C. office is 202.224.3344, the same number previously used by Senators Bob Corker and Bill Frist.
Be sure to follow my work on behalf of Tennesseans on social media:
Facebook: facebook.com/marshablackburn
Twitter: @MarshaBlackburn
Instagram: @MarshaBlackburn
My Best,

Marsha