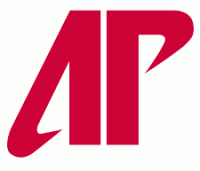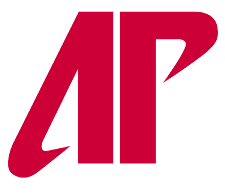 Clarksville, TN – Two of the greatest Governors athletes in their respective sports and the department's longtime sports information director were inducted into Austin Peay State University's Athletics Hall of Fame, Saturday.
In addition, a former superb football/basketball player who paid the ultimate price in defense of his country, was selected to the Hall of Fame as part of it Legends category.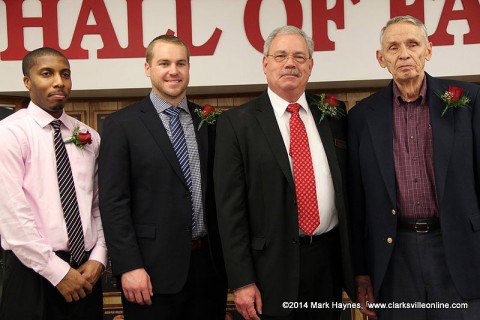 Nick Stapleton, the greatest scoring point guard in Austin Peay history who remains one of two Governors to tally more than 2,000 career points; Shawn Kelley, arguably the best "big game" pitcher in APSU history whose 2007 NCAA dual with Vanderbilt's David Price remains as the best single-game pitching performance in APSU history, and Brad Kirtley, who has publicized Austin Peay sports for the past 30 years, have been elected to APSU Athletics Hall of Fame.
Meanwhile, Reedy Sears, a wide receiver for the football team and a 5-9 guard on the basketball team in the early 1940s was chosen from the Legends category.
Nick Stapleton
A Flint, MI, native, Stapleton joined Austin Peay in 1997-98 as part of one of the greatest freshmen recruiting classes in Governors history, one that also included Trenton Hassell, who also is an APSU Hall of Fame member. All Stapleton did was become the program's second all-time leading scorer (2,073 points)—joining Bubba Wells as the only players in program history to score 2,000 points.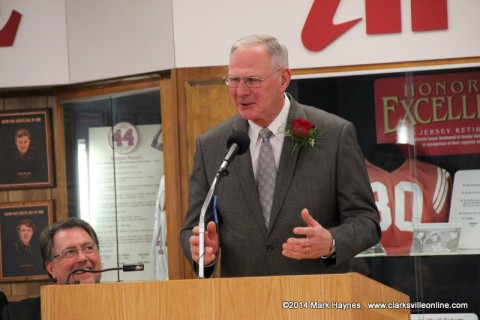 Stapleton came to APSU in the 1997-98 season but his career was delayed for a year as an academic non-qualifier. He quickly made up for lost time both off the floor and on. In 1998-99, he embarked on a career that saw him average double digits in each of his Governors seasons, beginning with a 13.6 points-per-game average. He was selected to the Ohio Valley Conference All-Newcomer team.
He then began a trek of earning All-OVC honors for the next three seasons. His scoring average jumped to 15.8 points per game, including five games of 20 points or more. That included a pair of 29-point efforts. He was named second-team All-OVC following that season that saw the Govs finished 18-10.
As a junior in 2000-01, Stapleton's scoring averaged jumped another two points to 17.8 ppg. It was a season that saw Stapleton score 20 or more points on 11 occasions, including a pair of 30-point outings. It was a season that saw Stapleton emerge as a big-game producer as he again earned second-team All-OVC.
After the Governors captured both their season's first two games, including a decision against Colorado, in the Top of the World Classic in Fairbanks, Alaska, they played Utah State in the title game. Stapleton helped rally the Govs in the second half and overtime as APSU captured the title game with the Govs' point guard tallying 28 points.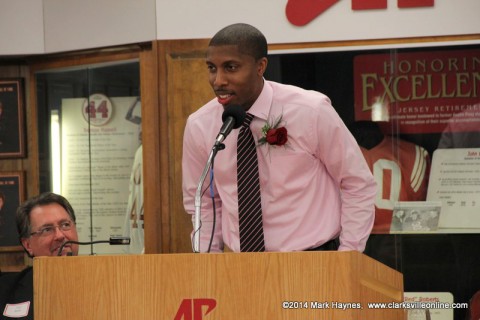 Stapleton later provided the Governors with an early Christmas present, going to Colorado State and befuddling the Rams in the thin air with 35 points as APSU escaped with a two-point victory. The Governors would end the season with a 22-10 record, including the loss—the most excruciating in head coach Dave Loos' career—to Eastern Illinois in the championship game of the OVC tournament.
But Stapleton was able to turn the page. On track to graduate, he was able to gain back the season he lost as an NCAA non-qualifier. With Theanthony Haymon and Joe Williams both graduating and Trenton Hassell graduating and off to the NBA, Stapleton was the lone remnant to mentor and lead a young Govs group that eventually would become the most successful in APSU history. But that growing process occurred in 2001-02.
As a result, Stapleton was the focal point. His 742 points were the third most in school history while the 23.2-point scoring average was the eighth-best. In fact, that scoring average is the best of any Gov since the turn of the century. He had 23 games with 20 or more points, including five 30-plus games.
After hitting a 30-foot-plus game-winning three against Southeast Missouri earlier in the year in a TV game, he proved to be SEMO's nemesis again on Senior Night, matching his career high with 37 points, going 14-of-20 from the field as he set a career best with six three-pointers made.
He earned first-team All-OVC for his season-long effort and then OVC all-tournament. He led the Govs to the OVC tourney semifinals before bowing to heavily favored Tennessee Tech in his career finale, a game in Louisville that Stapleton literally single-handily kept the Govs in the game until contest end when he scored 36 points.
Stapleton left his mark stamped on both the Austin Peay and OVC record books. He is second all-time in Govs history not only in scoring but field goals made (758). He is third in three pointers made (244). In the OVC annals, he ranks 11th all-time in points and also 11th in three-pointers made and ninth in three-pointers attempted.
After graduating from APSU with a bachelor's degree in health and human performance, he spent the next seven seasons playing overseas, taking him to different stops all over Europe, with stops in Germany, Austria, Israel, Turkey, France and Holland. He was selected to Austin Peay's All-Decade basketball team in 2010.
Shawn Kelley
Like Stapleton, Kelley's remarkable career was interrupted almost before it got started. An elbow injury saw his 2003 season ended with Tommy John surgery.
The Louisville native bounced back in 2004, moving into the starting rotation to post a modest 3-3 overall record, in a closely monitored 62.2 innings pitched. The Govs' hard-luck hurler's 3.45 ERA was third lowest in the OVC as the Governors posted an overall 35-21 record and a first-place 20-7 OVC mark.
In 2005, Kelley began building his big-game pitcher reputation. He was 4-1 in OVC games that season, his only loss to Jacksonville State. However, he avenged that loss with a sterling 4-1 complete-game semifinal victory against the Gamecocks in the OVC tournament. It helped the Govs to the tourney title and only the program's second NCAA tourney appearance in Knoxville. He not only earned OVC all-tourney honors along with second-team All-OVC.
With an assortment of injuries plaguing the Governors in 2006, Kelley's record (5-6) belied his overall effectiveness as his 3.30 ERA ranked sixth in the OVC. Still, Kelley helped get the Govs into the OVC tournament and then he gained another OVC tourney victory, a 6-3 complete-game victory against Eastern Illinois that again helped him earn OVC all-tournament honors.
He received his bachelor's degree in political science (minor in mathematics) in Spring 2006 but chose to return to APSU for his fifth-year senior baseball season, a decision that proved to be the ultimate "win-win" for the right hander and the Governors baseball program.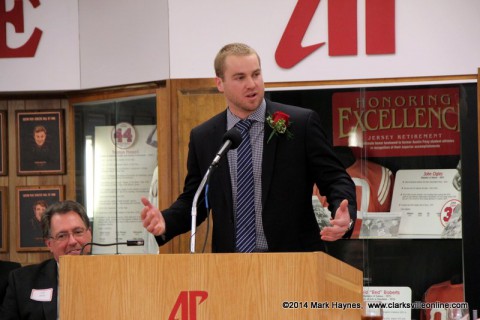 Arguably, Kelley enjoyed the greatest season ever for an APSU hurler. He finished the season 11-3 overall—those 11 wins tying for 16th nationally—that included a 7-1 OVC record. It was a season that saw the Govs roll to OVC regular-season and tourney titles.
He completed eight of those starts, tying the APSU mark for single-season complete games while tossing a pair of shutouts in compiling a 2.40 ERA. In 127.2 innings pitched (an OVC record, as are his 390.1 career innings), Kelley permitted an almost unfathomable 11 walks while fanning 82.
He opened OVC tournament play by throwing a complete-game 5-1 victory against Samford—his third straight OVC tourney win and complete game. He paced a pitching staff that allowed just four runs and one walk in three tourney contests. The Governors then were assigned to the NCAA Regional in Nashville—Kelley's second NCAA tourney appearance in three seasons.
It was in Nashville where Kelley literally wrote his legend. Kelley was matched against Vanderbilt, one of the heavy favorites to win the national crown, and David Price, the No. 1 pitching prospect in the country who later that spring would become the No. 1 pick in the Major League Baseball Draft.
Never wavering, Kelley authored what most consider the greatest single-game pitching performance in Gary McClure's tenure as baseball coach. He matched Price pitch for pitch, allowing only one run on a wild pitch to a highly-touted lineup that featured eight players drafted over the next two seasons.
He gained a no-decision in a contest where he threw 10 innings, allowed five hits and zero walks while fanning nine. Although the Governors lost that epic game 2-1 in 11 innings it was the jumping block for Governors baseball successes since. In fact, the next day the Govs won their first NCAA tourney game against Memphis.
Kelley is one of two athletes (former Lady Govs basketball player Gerlonda Hardin being the other) to leave Austin Peay with four championship rings. He was able to parlay his Vanderbilt success into a 13th-round selection in the Major League Baseball draft by the Seattle Mariners. In 2008, he was named the Mariners Minor League Pitcher of the Year.
In fact, in less than two seasons, Kelley pitched his way to the major leagues. After toiling from 2009-12 in an injury-interrupted stay with the Mariners, he was traded to the Yankees in 2013 and enjoyed one of his best seasons as a major leaguer. He was named the Yankees' May Pitcher of the Month.
Brad Kirtley
After spending nearly six years in the newspaper profession before working in Southeast Missouri State's sports information office, Kirtley arrived at Austin Peay as the department's sports information director in Winter 1984, replacing Sherwin Clift, who also is University Athletics Hall of Fame member.
He has been responsible for publicizing all 15 APSU sports at some point in his career, in particular during the first 15 years when there was no assistant. Currently he handles publicity for football, men's basketball, men and women's golf.
In fact, Kirtley was responsible for the restoration of the office's fulltime secretarial position in the mid-1980s and nearly 15 years later turned that position into a fulltime assistant when Cody Bush was hired. Bush has continued in that position since 1999. Then in 2010 he was able to hire a second fulltime sports information assistant when Alaric Klinghard was hired. Colby Wilson now holds that position.
The Cape Girardeau, MO, native has produced media guides (now online publications) for all APSU sports. Back in the mid-1980s, he worked with the late Bob Bibb and Coca-Cola to produce four-color cover media guide covers for the department's revenue sports.
He also created post-season media guide publications for multiple sports, including men's basketball, baseball and most recently the NCAA Golf Regional in Tempe, AR, and the Dustin Korte piece for the NCAA Championship. He also assisted and edited numerous other NCAA post-season pieces.
Along the way Kirtley assisted with game promotions, in particular during the first 15 years of his tenure, resulting in posters and schedule cards being produced for the respective Govs and Lady Govs sports.
He has represented Austin Peay by volunteering at NCAA events, most recently the Basketball Regional in Nashville in March 2012. He has been invited to work at this spring's NCAA Women's Final Four in Nashville, TN.
He has provided written athletics-related content for APSU's Alumni publication for the past 30 years, including the first sports features written by anyone other than the school's public relations staff. He produces along with edits written content for APSU's athletics website, www.LetsGoPeay.com, and also has provided numerous features on the website.
Kirtley spearheaded multiple publicity and All-America campaigns, in particular for Bubba Wells and Trenton Hassell, who earned Playboy All-American in 2001-02. He also Helped APSU maximize national publicity with the Wells' leg injury/return from media outlets such as NBC (Today Show), CBS (At the Half), USA Today and Los Angeles Times.
He is a member of the College Sports Information Directors of America (CoSIDA), having served on multiple committees. Twice Kirtley served as cohost of the student-worker table topic program at the organization's annual convention.
Over the years, he has supervised more than 150 student workers, including four who went on to become members of the profession. Kirtley has helped supervise and develop interns who later went onto become sports information professionals at Florida Atlantic, Cincinnati, Stetson, Sewanee, Curry College, Alabama State, Michigan and APSU.
One of Kirtley's greatest accomplishments can be directly attributed to a leadership style that has nurtured growth and advancement within the profession.
Kirtley's office has seen great progression in everything from a web presence which transitioned from an in-house to a professionally managed site, drastic improvement of the Governors Sports Network broadcast quality, development of Austin Peay's social media presence and the eventual creation of a Marketing and Promotions Coordinator position within the Athletics Department.
Through CoSIDA, he has been responsible for nominating numerous student-athletes for CoSIDA Academic All-America, including 26 (out of APSU's total 30) earning either first-, second- or third-team Academic All-America under his watch. More than 100 APSU student-athletes have earned CoSIDA Academic All-District since 1990.
Kirtley also has taken great pride and responsibility in authoring nomination content for numerous OVC and national awards, in particular the league's Steve Hamilton Sportsmanship Award; Austin Peay student-athletes have earned the prestigious honor nine times since inception in 1998-99.
He has served on University committees, including the Hall of Fame Committee for the past 30 years as well as being an original member of the University's Peay Pride Committee
Reedy Sears
Sears becomes the second former Governors standout to enter the Hall of Fame from the Legends category, reserved for those former athletes who competed at least 50 years ago.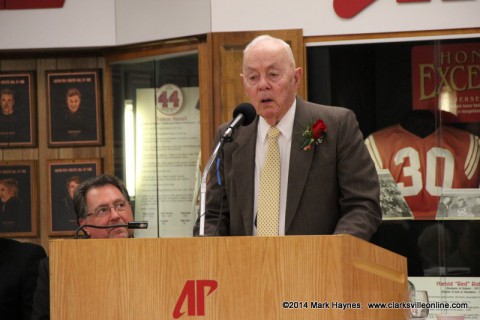 To be considered under the Legends category, a student-athlete, coach or athletic administrator must have completed their eligibility/employment/tenure at least 50 years prior to the annual Hall of Fame meeting date. These individuals are those whose credentials may be difficult to judge due to the passage of time when evaluated with nominees from more recent eras.
The committee felt the need to include this new category so those who were certainly Hall of Fame caliber during their career are brought forth and recognized. An Honors Selection Committee was formed and charged with researching and presenting to the Hall of Fame Committee three nominees they feel are deserving of Hall of Fame induction.
Sears certainly fits the necessary criteria. The Nashville-area native was a star wide receiver for the football team in the early 1940s while being talented guard for the basketball team from 1939-40 to 1941-42.
In 1941 he was considered the team's best wide receiver with Marshall Toombs, who also is in the APSU Athletics Hall of Fame. A year later as the team's primary wideout, he caught six touchdown passes.
In fact, during the contest against Tennessee Wesleyan that season he scored three of the team's four TDs in 24-6 decision on scoring passes. The three TD receptions stood as an APSU single-game record until Harold "Red" Roberts, another APSU Hall of Fame member, broke the mark with four against Murray State in 1967.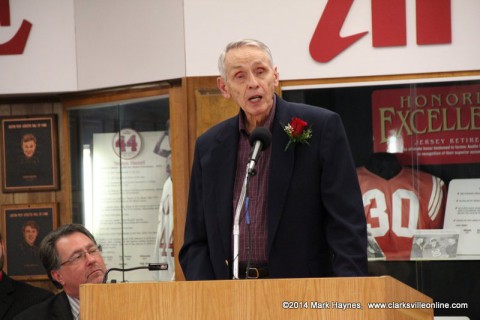 On the basketball court, Sears was a member of the 1939-40 19-0 basketball team that also featured Hall of Fame members Toombs, J.B Hatley and Dayton "Country" Ward. In 1940-41, Sears was the team's third-leading scorer until missing the final six games with illness.
A year later, Sears was the team's leading scorer with 230 points, a 12.1 scoring average. That point total ranks fifth best during the Austin Peay Normal Era (pre-World War II).
In that season, with the score tied 39-39 against Tennessee Tech, Sears was fouled as the game ended. He calmly walked to the line to hit the game-winning free-throw for the victory.
In the February 6th, 1942 All-State issue, Coach Bo Brown called Sears, "one the five best players" he ever coached.
Off the field, Sears was voted President of the Junior Class in 1941. When the World War II broke out in 1942, Sears withdrew from school and enlisted in the Army Air Corp. On his 26th mission, he died in action October 17th, 1944 when he parachuted from his disabled plane that was shot down over Cologne, Germany. He was buried in Germany.
In 1952, Sears' remains were brought back to Franklin, TN, where he was buried at the Greenbrier Cemetery.
Photo Gallery