APSU Sports Information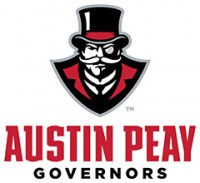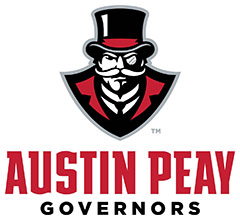 Clarksville, TN – Four Austin Peay State University athletic legends were enshrined in the APSU Athletics Hall of Fame, Saturday, during a breakfast ceremony in the Dunn Center front lobby.
Chelsea Harris, the greatest women's golfer in program history; Drake Reed, an all-time great who conquered the OVC during one of the most dominant eras of APSU basketball; and Ron Sebree, a vaunted lineman for the 1977 Ohio Valley Conference football team, were inducted along with the late Tom Lincoln, a star on the hardwood and the gridiron in the late 1940s, who was this year's Honors category recipient.
They became the 115th, 116th, 117th and 118th members of the APSU Athletic Hall of Fame.
Drake Reed
A Clarksville native who starred at nearby Northeast High School, Drake Reed elected to continue his career close to home and became one of the most decorated players of the Dave Loos era.
Reed burst onto the scene in 2005 and was a contributor from day one. After making six appearances off the bench to start the season, Reed entered the starting lineup against Tennessee Tech and would stay there for the final 125 games of his career. In 25 starts as a freshman, Reed averaged 8.3 points and 5.0 rebounds, earning four OVC Freshman of the Week honors and began building his reputation as a big-game player against Murray State, scoring the Governors final two buckets in regulation and the go-ahead basket late in overtime to topple the Racers.
Reed enjoyed breakout campaign as a sophomore, averaging 15.8 points and 6.0 rebounds to earn the first of three All-OVC selections and being chosen as the OVC Player of the Year and honorable mention All-America by the Associated Press. He scored 31 points against Arkansas State early in the 2007 campaign, a first for Austin Peay since 2002 but the first of eight 30-point games for Reed during his APSU career.
After a heartbreaking loss in the 2007 OVC Championship game, Reed helped lead the squad to the promised land in 2008. As a junior, he scored 14.4 points and added 5.6 rebounds in the face of constant double-teams that opened up the floor for teammates Todd Babington, Derek Wright, Fernandez Lockett and Kyle Duncan. He showed his mettle in the big moment again in the OVC Tournament; with the game on the line against UT Martin in the OVC semifinal, Reed stepped to the line and sank the go-ahead free-throw to give the Govs a 78-77 win. The following day, Reed and his teammates would cut down the nets at Municipal Auditorium as OVC Champions.
Reed simply couldn't be stopped as a senior, posting career-highs in points (21.9) and rebounds (7.5) per game and hitting 275 shots from the floor (third-best single-season mark in APSU history). He developed a touch from long-range as well, hitting 37.0 percent (17-for-46) from three as a senior.
Sensing a chance at adding a second ring to his collection, Reed was spectacular down the stretch as a senior, averaging 29.3 points on 58.9 percent shooting from the floor and 90.3 percent from the free-throw line to go with 8.9 rebounds during that February as the Governors were able to grab the No. 2 seed in the tournament.
Reed averaged 16.3 points during the tournament, earning his second all-tournament honor, but for the second time in three years the Governors fell the championship game on a last-second buzzer-beater, this time against Morehead State in spite of Reed's 16 points.
Reed's career-numbers are simply eye-popping. With 1,991 points and 794 rebounds, Reed is the only player in Austin Peay history with 1,900 points and 750 rebounds. He remains Austin Peay's career leader in free throws made (476) and attempted (694); games started (125); and minutes (4,093) and is ranked in the APSU top-10 in five other categories.
Austin Peay's Most Outstanding Male Athlete and co-Legends Award recipient in 2009, Reed has enjoyed a seven-year career overseas, playing in Australia, Libya, Austria and France, where he is suiting up for Poitiers this season.
Reed was presented by longtime mentor and friend Terry Boykin.
Chelsea Harris
The most decorated female golfer in Austin Peay history, Chelsea Harris is among the most consistently high-level performers to ever tee off for an Ohio Valley Conference school.
Since the OVC began handing out all-conference and all-tournament honors in 2001, only two student-athletes in conference history have been named All-OVC and All-OVC Tournament all four years of their respective careers—Harris and Jacksonville State's Mercedes Huarte (2005-08).
The Massac, IL, native burst onto the scene with a stellar freshman season in 2008 that saw her earn the first of four consecutive All-Ohio Valley Conference and All-OVC Tournament accolades—she concluded the campaign with a third-place 234 (77-80-77) at the OVC Tournament, three shots behind Huarte in the only OVC Championship the pair would meet in.
As a sophomore, Harris would earn a place on the All-OVC first team and equaled the program-best round of 69 at the Great Smokies Intercollegiate—a mark no Lady Govs golfer has reached since Harris' Sept. 15, 2008 outing at Waynesville Country Club.
Harris' junior season was one for the record books. In addition to becoming just the second player in APSU history to earn OVC Player of the Year, Harris became the first player in six years to take home individual medalist honors at the OVC Championship in the same season; she won the conference tournament by five strokes with a 180 (71-74-35); that margin of victory wouldn't be surpassed met again until 2014. Her 72.00 average stood as the tournament record until 2014.
The OVC title was one of two individual wins for Harris during her junior campaign; she also took medalist honors at the NewWave Communications Classic, where she shot 155 (76-79) to lead the Lady Govs to a second-place finish.
Harris put the bow on an exemplary career with a program-record 75.85 scoring average as a senior. She picked up another medalist honor at the SIUE Intercollegiate with a 149 (77-72) and set the program 54-hole record in her penultimate tournament at the EKU Lady Colonel Classic with a 221 (78-72-71). As was her habit, she was named first-team all-conference and earned a spot on the all-tournament team again as a senior.
After senior season, TGA selected Chelsea to represent Team Tennessee in the Southeastern Women's Amateur Team Championship (SWATC), a Solheim Cup/Ryder Cup version event against teams from Florida, Mississippi, North Carolina and Alabama. She also was APSU's Female Legends Award recipient in 2011.
Off the course, Harris was a seven-time member of the AD's Honor Roll, featuring two semesters on the Dean's List. She was a three-time member of the OVC Commissioner's Honor Roll.
She was an assistant for APSU women's golf coach and worked at LPGA Headquarters in Daytona Beach from 2012-13. She married Justin Phillips in 2015; the couple resides in Metropolis, IL
Austin Peay women's golf coach Sara Robson presented Harris.
Ron Sebree
While many players made contributions to Austin Peay's 1977 Ohio Valley Conference championship team, few were as imposing as Ron Sebree.
In an era before quarterback hurries were kept, before tackles for loss or sacks were routinely tracked, Sebree ruled with an iron fist along the defensive front from the first day he walked on campus, making 39 starts among the 43 times he put on an Austin Peay uniform. In the process, he became one of the most steadfast, reliable tacklers in one of the most successful eras of Austin Peay football history.
Sebree came to Austin Peay from nearby Christian County High School in Hopkinsville, KY where he was a all-state performer in 1974. From the beginning of his Austin Peay career, Sebree was a standout. As a freshman in 1975, he recorded 108 tackles—not an inconsequential number alongside Terry McCabe, who recorded 94 solo tackles of his own that season. He followed that up with a 90-tackle performance as a sophomore as the Govs improved from 3-8 to 5-6.
Sebree's junior season was one for the record books. Alongside Bob Bible, who recorded 170 tackles, Sebree made 135 stops to lead a ferocious Austin Peay defense that helped win the program's first Ohio Valley Conference Championship. Sebree picked up the first of two All-Ohio Valley Conference honors and honorable mention Little All-American—one of five a program-record five Governors to earn All-American honors from the championship team.
The 1978 season saw Sebree record a second All-OVC campaign with 77 total tackles and serve as captain for an Austin Peay squad which recorded back-to-back winning seasons for the first time in a 12 years. He concluded his career with 258 unassisted tackles—a mark that remains third all-time—and 410 total tackles, the fourth-highest mark in school history. Both totals are Austin Peay records for a defensive lineman.
After concluding his APSU career, Sebree spent a season as a student assistant and another season at Middle Tennessee before entering the coaching ranks in Georgia—he won two region titles and appeared in the state playoffs four times at Columbia High School, twice earning DeKalb County Coach of the Year honors (1992, 1996) and winning a state wrestling championship as an assistant coach in 1988.
He served 10 years as a member of the Georgia High School Athletic Association Executive Board and retired from the school system in December 2011 after 32 years, ascending to DeKalb County School System Athletic Director in 2007, supervising athletics for the third-largest school system in the state of Georgia. He was also inducted into the Christian County (Ky.) Athletic Hall of Fame in 2011.
Sebree and his wife Janice have two children—Janitrea and Leslie.
Former Austin Peay head coach and College Football Hall of Famer James "Boots" Donnelly presented Sebree.
Tom Lincoln
In an era defined by toughness and versatility, few stood out like Tom Lincoln.
Standout football player? Not only was Lincoln an all-conference end for the 1948 Vol State Athletic Conference champion Governors, he earned All-American honors the following year, joining Julius Sneed as the first-ever Austin Peay football players to earn All-American accolades.
The Governors of the Lincoln era were also the most successful squad of the pre-Ohio Valley Conference era—Austin Peay won eight games in both 1948 and 1949, a mark the Govs would not achieve again until the 1964 squad in Bill Dupes' second season.
Fantastic on the hardwood as well? Lincoln played a pivotal role for Austin Peay men's basketball during the era, returning for the 1949-50 season after missing the entire previous year with a broken leg.
Additionally, Lincoln earned playing time with the baseball team and ran track—a Renaissance man for the early age of Austin Peay athletics. His athletic prowess earned him an invitation to Philadelphia Eagles camp, but he elected to pursue other avenues in his post-collegiate life.
A doting husband and father, Lincoln was married to Elizabeth Moffett—the couple had two children, Dedra Lincoln Carricato and Thomas Lincoln II.
Lincoln's daughter Dedra presented Lincoln.